THE WEEKEND STARTS HERE:
...with JOHN HUGHES! The sportos, motorheads, geeks, sluts, buds, wasteoids, dweebies and dickheads, they all adore him. They think he's a righteous dude. The writer/director behind Sixteen Candles, The Breakfast Club, Pretty in Pink, Ferris Bueller's Day Off, Weird Science, National Lampoon's Vacation movies, Home Alone, Planes, Trains & Automobiles and many more died Aug 6, 2009. Hughes masterfully married music to movies, so I pay video tribute to him today, starting (of course) with "Don't You Forget About Me" by Simple Minds from The Breakfast Club (the drumming o­n this song is impeccable), and Karla DeVito's "We Are Not Alone," along with the Ramones playing "Blitzkrieg Bop" (from National Lampoon's Vacation), David Bowie's "Young Americans" and The Vapors o­ne-hit wonder, "Turning Japanese" and Billy Idol's "Rebel Yell" (all from Sixteen Candles, which opens to a clip of veteran WLS DJs Larry Lujack and Tommy Edwards), Van Halen's cover of "(Oh) Pretty Woman" and General Public's "Tenderness" (both from Weird Science), the Psychedelic Furs re-recorded title track from Pretty In Pink, which also featured Jon Cryer lip-synching to Otis Redding's "Try A Little Tenderness" (that last clip is a blistering live take from the 1967 Stax tour -- and excellent, btw), The Smiths' "Please, Please, Please Let Me Get What I Want" (a Hughes perennial; here, the Dream Academy cover from FBDO), and OMD's "If You Leave," plus two more from Ferris Bueller's Day Off, "Danke Schoen" and "Twist and Shout" (which was shot o­n Dearborn and Randolph Streets in Chicago, with International Polka Queen Vlasta atop the float, though Cameron and Sloane were in front of the Post Office down the street), plus Yello's unforgettable-no-matter-how-you-try "Oh, Yeah." Videos are scarce for Some Kind of Wonderful, but I found Flesh for Lulu's "I Go Crazy" and the March Violets' take on the Stones' "Miss Amanda Jones."
OF MONTREAL advance streams Innocence Reaches.
BLIND PILOT advance streams And Then Like Lions.
HOCKEY DAD advance streams Boronia.
KELSEY WALDON advance streams I've Got A Way.
CREAM syncs "I Feel Free" at the Beat Club.
RADIOHEAD's Johnny Greenwood talks to Bob Boilen about A Moon Shaped Pool, his lifelong affair with the recorder, and Deep Purple.
THE ENGLISH BEAT: Ranking Roger picks the punk, ska and reggae tracks that influenced him and the sound of his band.
THE 2016 MERCURY PRIZE shortlist nominations are out.
THE SHAGGS' Philosophy of the World is getting a deluxe reissue.
NOW SHOWING: This weekend's wide releases are Suicide Squad, which is currently scoring 27 percent on the ol' Tomatometer; amd Nine Lives, which was not screened for critics.
STAR WARS: Several insiders say Tony Gilroy, an uncredited writer on Disney's upcoming spinoff Rogue One: A Star Wars Story, has been empowered to take the lead on postproduction for the Dec. 16 release, even as director Gareth Edwards remains involved in the project.
ORLANDO BLOOM, naked on a paddleboard with a non-naked Katy Perry.
DREW BARRYMORE and Will Kopelman are officially divorced.
THE BIG LEBOWSKI's David Huddleston (the "real" Lebowski) died Tuesday at 85.
SEINFELD: The 9/11 Spec Script.
DUNKIRK, the next movie from Christopher Nolan, has a teaser trailer.
TURKEY: A court in Istanbul has issued an arrest warrant for US-based cleric Fethullah Gulen over Turkey's recent failed coup, media reports say.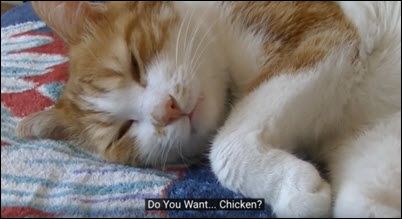 THIS CAT needs a naptime talk.
A GOOSE attacked an Ottawa cyclist.
SEA OTTERS were wrongly accused of causing a 41000-acre wildfire to flare out of control.
AN OWL defied police with an act of civil disobedience in the Thames Valley.