THE WEEKEND STARTS HERE:
...with the YOUNG FRESH FELLOWS! Live at Cicero's in St. Louis, On November 23rd,1985, so this is Chuck Carroll-era YFFs. Selections include: "Gus Theme," "White Bird," "If I Had A Hammer," "Power Mowers' Theme," "Where Is Groovy Town?", "Sharing Patrol," "Topsy Turvy," "Young Fresh Fellows Theme," "Hang On Sloopy," "All Messed Up," "Big House/ Love Boat Theme medley" "Mr. Salamander's Review," "Down By The Pharmacy," "Close to You/ Someone I Care About," "Aurora Bridge," "How Much About Last Night Do You Remember?" "This Little Mystery," "Searchin' USA," "Fair Exchange," and "My Friend Ringo."
THE NATIONAL, Live from France.
CRAIG FINN advance streams I Need A New War.
JOSH RITTER advance streams Fever Breaks.
SUNN O))) advance streams Life Metal.
RODRIGO Y GABRIELLA advance stream Mettavolution.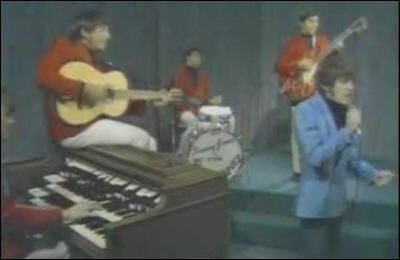 TOMMY JAMES & THE SHONDELLS: "I Think We're Alone Now," at the Village Square. No, really.
BIG THIEF have never sounded looser or more in tune with each other.
JASON BONHAM retracted a claim that Jimmy Page gave hi cocaine at age 16.
THE 50 BEST MUSIC DOCUMENTARIES, according to Vulture.
THE NUMBER ONES looks at Helen Reddy's "Delta Dawn" a simple song with a complicated history.
WHY IS THIS SATURDAY DIFFERENT FROM ALL OTHER DAYS? Because ABC has its annual showing of The Ten Commandments, a grand spectacle featuring acting from Edward G. Robinson and Anne Baxter that is so over-the-top that Yul Brynner starts to look good by comparison. And while Robinson's Dathan never actually spoke the line "Where's your Messiah now?" in the movie, it -- like "Play It Again, Sam" (not spoken in Casablanca) -- has become part of a part of our culture. The line actually comes from Billy Crystal, originally a bit from the Oscars, iirc. It later turned up o­n The Simpsons, with Chief Wiggum playing Dathan to Ned Flanders' Moses. SUNDAY is EASTER, so I'll probably break out my copy of Ben-Hur, or catch King of Kings on TCM.
NOW SHOWING: This weekend's wide releases include The Curse of La Llorona, which is currently scoring 33 percent on the ol' Tomatometer; Breakthrough, scoring 64 percent; and Penguins, scoring 90 percent.
ROBERT DOWNEY, JR seems to be the only member of the cast who has read the full script of Avengers: Endgame.
CHILD'S PLAY has a trailer online.
HOBBS & SHAW has a trailer online.
STRANGER THINGS is headed for a trial over whether the Duffer Brothers stole the idea.
CHET COPPOCK, the Godfather of Chicago sports talk radio, died following an auto accident in South Carolina. He was 70 years old.
A PUP on a segway-type b0ard.
A WOOLY MAMMOTH'S cells were brefly reactivated. They spared no expense.
ANIMAL CRACKERS have been freed from their cages.
TWO DADS, ONE MOM, ONE EAGLE'S NEST, a lot of drama.