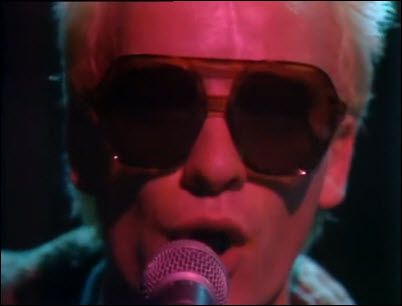 THE POLICE: "Next To You," an early Pate staple.

PAUL McCARTNEY's Carpool Karaoke through Liverpool is a thing. With James Corden playing the role of Chris Farley.

NINE INCH NAILS is streaming Bad Witch.

THE INNOCENCE MISSION advance streams Sun On The Square.

MICHAEL RAULT covers Big Star, the Byrds, and Billy Nicholls for a Lagniappe Session.

MY BLOODY VALENTINE shared a new song at the Meltdown festival.

THE KILLERS: Brandon Flowers and Ronnie Vannucci Jr talk to NME about their MIA rhythm section, and more.

NILE RODGERS: After a tumultuous childhood, drug addiction and the death of disco, the coolest man in pop is bringing back Chic.

PATTI SMITH on "Because The Night" at 40.

VINNIE PAUL, the drummer and co-founder of heavy metal band Pantera, has died at age 54.

THE NUMBER ONES looks back on the Four Seasons' "Rag Doll," perhaps the first of the many, many songs ride the "Be My Baby" beat to success.
WEEKEND BOX OFFICE: Jurassic World: Fallen Kingdom dominates the chart with an estimated 150MM (the math of that estimate suggests to me it might come in a few million lower, while getting the big headline). There's no new big competition until Ant-Man and the Wasp shows up after 7/4, but this debut is far below the 208MM of the 2015 reboot. Incredibles 2 places with 81MM on a 56 percent drop that's not unheard of for Pixar sequels, but probably mildly disappointing -- but only mildly, given the dino-competition and the likelihood that this will be Pixar's second-biggest grosser, perhaps its biggest. Ocean's 8 shows with 11.7MM on a 39 percent drop, crossing the 100MM mark en route to becoming the second-biggest of this franchise. Tag slid 45 percent to the fourth slot with 8.2MM, but at least recouped its 28MM production budget and could even make a little money in theaters. Deadpool 2 rounds out the Top Five with 5.3MM, breaking the 300MM mark domestically. Below the fold, Solo is... below the fold, though itfinally crossesthe 200MM mark.
TOM HOLLAND now seems to be intentionally "spoiling" the Spider-Man sequel's title.
GAME OF THRONES co-stars Kit Harington and Rose Leslie married Saturday with a church service and a celebration at the bride's ancestral castle in Scotland.
CHRIS PRATT & KATHERINE SCHWARZENEGGER were set up by Maria Shriver.
ANTHONY BOURDAIN did not have narcotics in his body when he died this month, a French judicial official said.
"CATFISH" resumed production following allegations of sexual misconduct against host and executive producer Nev Schulman were found to be not credible.
NETFLIX fired its top communications spokesman after "insensitive" remarks (i.e., a racial slur) he made to his team.
ANT-MAN & THE WASP is getting good early buzz. SWIDT?
A SCHOOL OF HAMMERHEADS swim right by one man's boat while on a fishing trip with his family.
RAT DIES doing what it loved: breaking into an ATM and gorging itself on nearly 18 grand on cash.
AN ILLEGAL PESTICIDE killed 13 bald eagles in Maryland.
AN ALASKAN HUSKY rescued an injured hiker crossing the frigid Eagle River along Crow Pass Trail.