OK GO's video for "That One Moment" took less than 30 seconds to shoot.
WHITNEY played the Pitchfork Music Festival Paris.
BIG THIEF stopped by the World Cafe for a chat and mini-set.
POLYVINYL PLAYS POLYVINYL, which has Polyvinyl artists covering other Polyvinyl artists for the label's 20th anniversary is streaming online.
THE ROLLING STONES share the Bukka White/Eddie Tayor blues classic "Ride 'Em On Down."
BEST COAST shares "Christmas and Everyday," the band's contribution to Amazon's new holiday special An American Girl Story—Maryellen 1955: Extraordinary Christmas.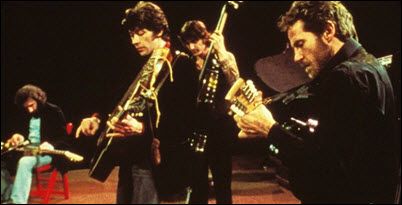 THE LAST WALTZ: The Band's classic live event tuned 40 over the weekend. Robbie Robertson talked to Morning Edition about it. Pitchfork looks at The Band beforeth ey were The Band.
THE TOP 50 ALBUMS OF 2016, according to NME.
THE 50 BEST HOLIDAY SONGS, according to Pitchfork.
THE 12 BEST DOLLY PARTON SONGS, according to Paste.
PUNK FUNERAL: The son of Vivienne Westwood and the late Sex Pistols manager Malcolm McLaren has set fire to an estimated £5m worth of punk memorabilia on a boat on the river Thames.
WEEKEND BOX OFFICE: Disney's Moana topped the holiday box office with 55.5MM over the weekend and 81.1MM since its Wednesday night debut; that's a bit shy of Frozen over similar timframes, but I'm betting the Mouse is verrry happy against a reported 150MM budget. Fantastic Beasts and Where to Find Them placed with a strong 45.1MM (65.8MM over 5 days); this extension of the Potterverse is well on its way to profitability. Doctor Strange shows with 13.4MM (18.9MM over 5 days), crossing the 200MM mark in North America and reaching 616MM worldwide, suggesting the sorcerer 's magic is in the black already. The debut of Allied took the fourth slot with 13MM (18MM over 5 days), which means it will need big help overseas to profit against an 85MM production budget. Arrival rounded outh the Top Five with 11.3MM (15.6MM over 5 days) on a leggy 7 percent drop; the rightly-acclaimed sci-fi that's about so much more than aliens still stands a chance of becoming profitable in theaters.
MOANA: I still find it interesting that Disney animated flicks retain their distinctive Disney-ness under the leadership of fmr Pixar honcho John Lasseter. Moana plays with the Princess formula a bit and even pokes fun at it in places (stay past the credits for the final example of this), but never disrespectfully. Moana is reliably charming. Its score benefits from bringing in Hamilton's Lin-Manuel Miranda as well. Overall, it's very good, but not great; its artistry, casting and characters may be more memorable than its heroine's journey. In this case, that's enough to carry the film, but not place it on the top tier of Disney confections.
GUARDIANS OF THE GALAXY VOL. 2: Sean Gunn leaks a tidbit or two about the setup for the sequel.
KANYE WEST has been paranoid and profoundly depressed, and he's been dealing with these issues for a long time.
FLORENCE HENDERSON, who began her career as an ingénue soprano in stage musicals in the 1950s but made a more lasting impression on television as the perky 1970s sitcom mom on The Brady Bunch, died of heart failure on Thursday in Los Angeles. She was 82. A number of the Brady kids tweeted their tributes.
RON GLASS, a prolific TV actor known for playing Ron Harris in the sitcom Barney Miller and Shepherd Derrial Book in Firefly, has died of respiratory failure. He was 71. The Firefly cast and more paid tribute.
FIDEL CASTRO is dead at age 90.
MONTENEGRO: Serbia has deported a group of Russians suspected of involvement in a coup plot in neighboring Montenegro, in the latest twist in a murky sequence of events that apparently threatened the lives of two European prime ministers.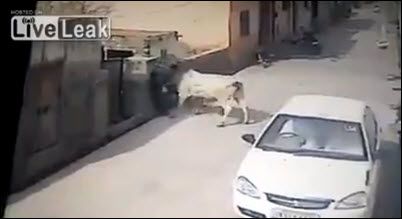 WHEN COWS ATTACK: Unexpected.
A GOAT WITH ANXIETY ISSUES is calmed by wearing a duck costume.
FEMALE VERVET MONKEYS manipulate males into fighting battles by lavishing attention on brave soldiers while giving noncombatants the cold shoulder.
RATTLESNAKES are moving on state office buildings in Austin, TX.