THE WEEKEND STARTS HERE:
...with AIMEE MANN's CHRISTMAS CAROL (profanity warnings): Part One has your Scrooge-y set-up with Michael Penn. Part Two features The Office's John Krasinski. Part Three has Michael Cera. Part Four has John C. Reilly.
CURTIS HARDING brings the soul to WFUV's Studio A.
EMILY HAINES stopped by World Cafe for a chat and mini-set.
RAG'N'BONE MAN also stopped by World Cafe.
S. CAREY shares "Still, Still, Still" (billed as a Christmas carol).
PURLING HISS shares "My Dreams."
TOM WAITS gives a reading of a "Christmas Card From a Hooker in Minneapolis."
THE TOP 40 POP SONGS of 2017, according to Stereogum.
BLANK PLACE: Richard Hell after Lexington. (Thx, Katherine)
THE SUSPECTS: Steve Wynn and Kendra Smith's band before the Dream Syndicate.
WHAM!: The inside story of "Last Christmas."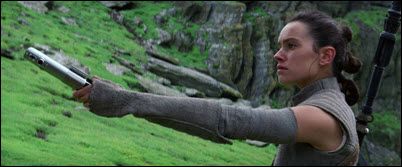 NOW SHOWING: This weekend's wide releases are Star Wars: The Last Jedi, which is currently scoring 93 percent on the ol' Tomatometer; and Ferdinand, which is scoring 80 percent. Fairly sure the Jedi will win the weekend.
STAR WARS: THE LAST JEDI, the eighth installment of the venerable space opera, may require a brief revisitation of theprior installment, The Force Awakens. I get the impression it didn't age well for many as essentially a remix of elements from the original trilogy and as featuring Rey as a "Mary Sue" character so instantly powerful that she efectively reduced the stakes in that film's climactic lightsaber battle. I get those arguments, though I tended to think that there was probably a corporate imperative to assure people these new films were going to be more in the style of the originals than like the prequels, and because I thought Luke Skywalker was himself a bit precocious in Episode IV (though the point about that last fight in TFA is well-taken). This was my basic mindset entering the theater. On the other side, I can say that The Last Jedi does a better remix; some of the elements -- drawn primarily from The Empire Strikes Back and Return of the Jedi -- are obvious, but some are more subtle and those tend to work better. And Rey is less of a Mary Sue insofar as the second act of the trilogy (in an echo of TESB) finds her challenged more on an emotional and personal level from both Luke Skywalker and Kylo Ren. Poe Dameron gets a better arc in this picture, most likely because he was supposed to be killed early in the last installment and was grafted onto later versions of that script. Finn continues to frustrate me insofar as there is an interesting idea to be explored in his character that the scripts have not executed well. Mark Hamill gets a great turn as Luke; some may wonder if they stretched his demeanor a bit too much, but I'm forgiving given the lapse of time and how well Hamill delivers. I really can't say much non-spoilery about Leia Organa, save to say that Carrie Fisher's final performance is much improved over TFA (when she hadn't acted in a while). Overall, the script is perhaps not as viscerally satisfying as some of the other installments -- and that's even adjusting for the inherent problems of a second-act movie. Some of the remixed ideas are in fact weaknessses that get imported here. For example, I don't think it's very spoilery of me to note that TESB -- considered by many to be the best of the franchise-- had a timeline does not withstand rigorous scrutiny. Indeed, the second act of this second act gets into a sublot that really didn't do much for me (this is a big part of my Finn frustration). And it only occurs to me now, decades later, that one of the subtexts of that film and this one is really a rather odd one for an all-ages space opera. I can't tell you what it is here, but it goes from subtext to text in Poe's story here.
MARK HAMILL recalls the shock of finding out about Carrie Fisher and Harrison Ford's secret affair, and more.
DUSTIN HOFFMAN is accused of sexual misconduct by three more women, anonymously.
HARVEY WEINSTEIN "does not recall" pressuring Salma Hayek to do a gratuitous sex scene with a female costar in Frida.
ESPN may not be the most female-friendly workplace, to put it mildly.
DISNEY WANTS TO BUY FOX: What does that mean?
THE DARKEST HOUR: Inside Gary Oldman's transformation into Winston Churchill.
DWAYNE "THE ROCK" JOHNSON is actually considering running for President of the United States in 2024.
AWAY FROM A MANGER, a cow flees down I-95.
PET HOARDING: An animal group has removed more than 100 cats from a central Ohio home where 55 other felines were found dead.
SHELTER DOGS may be forced into Veganism in Los Angeles.
ASBESTOS THE KITTY is living the good life after falling through his new owner's ceiling.