FLEET FOXES share a video for "Fool's Errand."
U2 played classics, rare ones and a new one to kick off the Joshua Tree anniversary tour in Vancouver.
STRAND OF OAKS play a mini-set on CBS This Morning.
ELF POWER streams Twitching In Time.
GIRLPOOL streams Powerplant.
AXL ROSE joined BILLY JOEL to cover AC/DC's "Highway to Hell" and duet on Joel's own "Big Shot."
MOGWAI shares "Coolverine."
PRINCE: Hear the unreleased mid-80s track "Our Destiny/Roadhouse Garden."
THE KINKS are "The Village Green Preservation Society." God bless 'em.
PWR BTTM After Ben Hopkins was accused of sexual abuse and anti-Semitism, the band lost its two labels, management, touring members, opening acts, and now its tour.
SON VOLT: How Jay Farrar retuned his guitar and relearned how to play.
THE OFFSPRING's Dexter Holland has finally finished the Ph.D program in molecular biology he put on hold years ago to focus on rock & roll.
100 SONGS from 100 great debut albums.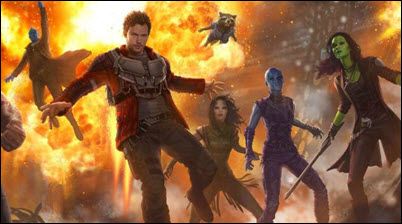 WEEKEND BOX OFFICE: Guardians of the Galaxy Vol 2 repeats atop the chart with 63MM on a 57 percent drop, but almost exactly what the original made in its second weekend. The worldwide total so far is 630MM, so it's likely in the black. Snatched places with 17.5M, likely a good start against a 42MM budget, but much less than Amy Schumer's prior Trainwrecked, and another in a series of female-led counter-programming moves at the start of the Summer season that didn't quite work. But the real story this weekend is King Arthur: Legend of the Sword, which shows with 14.7MM against a 17MM budget. With only another 29MM in foreign sales, this is an atomic bomb. The Fate of the Furious was fourth, adding another 5.3MM to a global total of almost 1.2 Billion. The Boss Baby rounds out the Top Five with another 4.6MM.
JIM PARSONS married Todd Spiewak on Saturday night at the Rainbow Room in New York.
KATY PERRY is negotiating a deal to become the anchor judge on American Idol.
KATIE HOLMES & JAMIE FOXX took a romantic trip to Paris, where Tom Cruise is filming M:I6.
DRAKE escorted his little cousin and her date into prom.
TIMELESS got cancelled and uncancelled.
THE FIFTH ELEMENT: Uproxx takes a 20th anniversary view.
WILL FERRELL sings during a commencement address.
POWERS BOOTHE, a character actor who appeared in films like Sin City and TV shows including Deadwood and Agents of S.H.I.E.L.D., died Sunday morning in his sleep of natural causes. He was 68.
A WORLDWIDE MALWARE ATTACK was stopped by a 22-year-old who lives with his parents by registering a domain for about 11 bucks.
NORTH KOREA fired a missile that reached an altitude of more than 2000 kilometers and could be a new type of a missile, Japan's Defense Minister Tomomi Inada said.
VENEZUELA is ounding up some protestors and sending them not to ordinary courts, but to military ones.
DUCKLINGS' First Jump.
THE ONLY WHITE WOLF in Yellowstone had to be euthanized after being shot. The park is treating her death as a crime.
KILLER WHALES are hunting great white sharks and eating their livers.
HUMPING THE SHARK: The culprit was an ex-NYPD cop.