STEVE MACKAY, the saxophonist who appeared on the Stooges' 1970 LP Fun House and a longtime touring member of the group following the Stooges' reunion in 2003 (Here he is playing behid Iggy on "Fun House"), died recently following a month-long fight with sepsis. Mackay was 66.
PATRICK STICKLES of Titus Andronicus stopped by The Current for a chat and mini-set.
KURT VILE stopped by WFUV's Studio A for a chat and mini-set.
ALBERT HAMMOND JR performs in the WNYC Soundcheck studio.
SILVERSUN PICKUPS stopped by Morning Becomes Eclectic for a session.
CAMERA OBSCURA keyboardist Carey Lander passed away after battling osteosarcoma, an aggressive form of bone cancer, since 2011. She was 33. In her honor, let's revisit 2009's "The Sweetest Thing."

LUNA: Dean Wareham talks to the Village Voice about putting the band back together. (Thx, Frank Yang.)

THE ZOMBIES: Rod Argent talks to the Village Voice about his influences, NYC in the Sixties, and touring Odessey and Oracle in its entirety.

ST VINCENT: Annie Clark waitressed this past weekend at a Dallas taqueria owned by her brother and sister-in-law.

THE TEN VIDEOS with more than a billion Tube views. "Do you already despair for the future of humanity? Then stop reading now."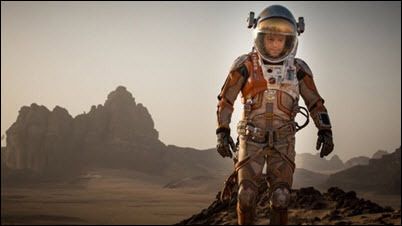 WEEKEND BOX OFFICE: The Martian repeats at the top of the chart with 37MM, on the strength of people like me, who took my brother and sister-in-law to se it. The Ridley Scott flick dropped only 32 percent, which is leggy, tho not as leggy as Gravity's 23 percent sophomore frame. Hotel Transylvania 2 places again with 20.3MM on a 39 percent drop, clearly benefitting from the Halloween season and a lack of family film competition until next month's Peanuts film. The debut of Pan shows with 15.5MM which means it would need Neverland-level grosses abroad to make money on a 150MM budget. The Intern takes the fourth slot with 8.7MM on a leggy 26 percent drop. Sicario rounds out the Top Five with 7.4MM on a 40 percent drop, which is OK, tho in hindsight this release maight have been a bit early to retain buzz during awards season.
KANYE WEST got political advice from President Obama.
JENNIFER LAWRENCE gave AZIZ ANSARI a piggyback ride leaving the SNL afterparty.
BOBBI KRISTINA BROWN died due to "injection of a toxic mixture" by Nick Gordon, according to a new legal document filed by Brown's court-appointed conservator Bedelia Hargrove.
JOHN GOODMAN has dropped a lot of weight.
RANDY QUAID was taken into custody Friday night while trying to cross into the United States from Canada, Vermont State Police said.
PIPPA MIDDLETON, the sporty sister of Princess Kate, has split from Nico Jackson, her boyfriend of three years.
MARVEL STUDIOS may drop The Inhumans movie in its schedule reshuffle. OTOH, the next two Avengers movies have a combined budget of one billion dollars.
COLUMBUS DAY: I get it as a holiday, so I thought a few words might be in order. Over the course of my life, I have seen the image of Columbus swing from unvarnished hero to genocidal criminal, and the subject of many misconceptions. Columbus was certainly no sweetheart, but at the end of the 15th Century, it is fair to say that Europeans often did not treat each other all that well. Moreover, before the furriners showed up, Native North and South Americans engaged in tribal massacre, infanticide, scalping, human sacrifice, and the ritual skinning of slaves for their priests to wear. It was a far less civilized time all 'round. But the West is civilized today in part because of Columbus. Some four centuries-plus later, we all are still struggling to become more civilized, but focusing criticism o­n the more-civilized while giving the less-civilized a pass is not particularly useful to that struggle.
TURKEY: At least 95 people were killed in twin explosions Saturday outside the main train station in the Turkish capital Ankara where protesters were gathering for a peace march, the government said.
SYRIA's key opposition National Coalition said Sunday it would boycott talks proposed by UN peace envoy Staffan de Mistura over concerns about his plan and Russia's air strikes in the country. Russia said on Saturday it had stepped up its bombing campaign against Islamic State militants in Syria, while local observers said several of the air strikes had hit areas in western Syria where the hardline group has little presence. Meanwhile, for the first time since 2007, the U.S. Navy has no aircraft carrier in the Persian Gulf. A week into Russia's military intervention in Syria, some top White House advisers and National Security Council staffers are trying to persuade President Barack Obama to scale back U.S. engagement there, to focus on lessening the violence and, for now, to give up on toppling the Syrian regime.
IRAN tested a new guided long-range ballistic missile on Sunday, hours before Parliament, in a rowdy session, approved the generalities of the nuclear agreement reached in July between Iran and world powers, the state news agency IRNA reported. The missile launch may have violated the terms of the agreement, reached in Vienna with six world powers. Shocka.
AFGHANISTAN: The Taliban insurgency has spread through more of the country than at any point since 2001, according to data compiled by the United Nations as well as interviews with numerous local officials in areas under threat.
IRAQ: Eight senior figures from the Islamic State were killed in an air strike while meeting in a town in western Iraq, but the group's reclusive leader Abu Bakr al-Baghdadi did not appear to be among them, residents of the town and hospital sources said.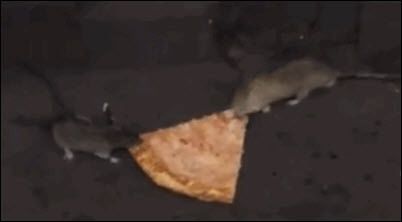 PIZZA RAT 2: Electric Boogaloo.
BLACK BEARS can now be hunted in Florida for the first time in 21 years.
HOW THE GIRAFFE got its neck.
A DOG saves KITTENS in a Doritos box.