THE WEEKEND STARTS HERE:
... with THE BYRDS! Pretty much because I dig them as we turn into Spring (or Fall). Let's start with a rare 1965 clip of their breakthrough smash cover of "Mr. Tambourine Man." There are screaming girls, plus go-go dancers when they hit Shivaree for "All I Really Want to Do" and "Feel A Whole Lot Better." Next up is a rare sync of "I Knew I'd Want You." There are even more dancers when they cover Buddy Holly's "Not Fade Away" for Shindig! on June 23, 1965, while I'm pretty sure that's Ed Wynn introducing "Chimes of Freedom." You might recognize the voice introducing "Bells Of Rhymney" from poolside in August 1965 and "It Won't Be Wrong" from a corral in January 1966 on Where The Action Is. BONUS: Want a couple in color? Here's "Turn, Turn, Turn!" and "Mr. Spaceman." DOUBLE BONUS: A rare 1967 sync of "Eight Miles High."

BOB MOULD advance streams Patch The Sky.

ANDREW BIRD advance streams Are You Serious.

BLEACHED advance streams Welcome The Worms.

GRATEFUL DEAD tribute tracks from The War On Drugs, Courtney Barnett, Bruce Hornsby, The National, and Phosphorescent, Jenny Lewis, & Friends are online.


CAR SEAT HEADREST shares "Drunk Drivers/Killer Whales" ahead of Teens Of Denial.

GOTOBEDS drop "Real Maths:Too Much" ahead of Blood//Sugar//Secs//Traffic.

WILLIAM BELL, of Memphis' iconic Stax Records, returns after 40 years with "Three of Me."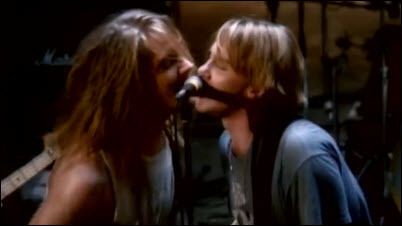 SOUL ASYLUM's near-breakthru, "Someone to Shove."
JEFF TWEEDY talks to FasterLouder about forming a band with his son, his disdain for the idea of "dad-rock", that time he worked security for Billy Corgan in the '90s, and the BS of nostalgia for Wilco's Yankee Hotel Foxtrot album.
THE NATIONAL's Matt Berninger revisits a magical teenage year for Loud and Quiet. (Thx, Frank Yang.)
TEN ESSENTIAL LATE NIGHT ALBUMS, according to Treble. (Thx, LHB.)
THE FLAMING LIPS: Ten of Their Best.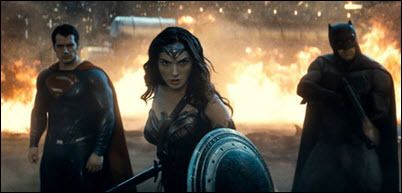 NOW SHOWING: This weekend's wide realeases are Batman v Superman: Dawn of Justice, which is currently scoring 31 percent on the ol' Tomatometer; and My Big Fat Greek Wedding 2, scoring 26 percent.
BATMAN v SUPERMAN, despite the 31 percent rating, isn't a terrible movie. It is, however, a deeply frustrating one. Whearas Marvel built its Cinematic Universe over a series of films, DC uses this one film as a launch point (to varying degrees) for its universe. When it succeeds, it does so with gusto: Gal Gadot is terrific as Wonder Woman and makes me eager to see her standalone movie. When it fails, as it does in three other respects, the viewer is left with largely useless exposition (and a demonstration of the superiority of the Marvel method by comparison). And that exposition is on top of the already overstuffed sequelitis that infuses this film, as BvS is largely a sequel to and exploration of the consequences of Man of Steel. Again, sometimes this works well, e.g., an early scene depicitng the Lois Lane/Clark Kent relationship is simply lovely, though not necessary. In other spots there is sheer pointlessness, e.g., there are two scenes between Lane and then-General/ now SecDef Swanwick that really could have been one scene. Indeed, direcor Zack Snyder probably could have cut a half-hour of running time, including half of a number of fantasy sequences, and had a better film. Ironically, given the uproar of casting Ben Affleck as Batman, he's one of the least problematic things in the movie, combining the already dysfunctional Bruce Wayne with the security impulses of Dick Cheney fairly well. Given that Batman's arc pays off better than Superman's, it's a shame that his final scene with Gadot is more exposition that lacks drama or intrigue. Also, I had fewer problems than many with Jesse Eisenberg as Lex Luthor, a/k/a the even more evil version of Mark Zuckerberg from The Social Network. Of course, one can take issue with that conception of Luthor, despite Eisenberg's execution thereof -- but that's more a problem with the script, the source of most of BvS's problems. The screenplay has interesting themes and perhaps better set pieces than Man of Steel, but a plot so convoluted, occasionally nonsensical (Luthor's main plan does not bear much careful examination beyond plot contrivance) and littered with disposables that the emotional payoffs suffer. I suspect regular movigoers will be kinder than the general critical response; it's just a shame it was so flabby.
GARRY SHANDLING, comedian, actor, writer and producer, known for It's Garry Shandling's Show and The Larry Sanders Show," died Thursday following a "medical emergency." He was 66. Heil Hydra.
PAUL McCARTNEY joins the cast of Pirates Of The Caribbean: Dead Men Tell No Tales. No, really.
BETTY WHITE is being sued by her longtime live-in domestic worker for allegedly failing to pay overtime and not allowing breaks.
EMMA STONE, JONAH HILL & CARY FUKUNAGA (True Detective) will be adapting the Norwegian dark comedy series Maniac for Netflix.
WHY IS THIS SATURDAY DIFFERENT FROM ALL OTHER DAYS? Because ABC has its annual showing of The Ten Commandments, a grand spectacle featuring acting from Edward G. Robinson and Anne Baxter that is so over-the-top that Yul Brynner starts to look good by comparison. And while Robinson's Dathan never actually spoke the line "Where's your Messiah now?" in the movie, it -- like "Play It Again, Sam" (not spoken in Casablanca) -- has become part of a part of our culture. The line actually comes from Billy Crystal, originally a bit from the Oscars, iirc. It later turned up o­n The Simpsons, with Chief Wiggum playing Dathan to Ned Flanders' Moses.
IRAN: The Obama administration is expected to blame Iranian hackers as soon as Thursday for a coordinated campaign of cyber attacks in 2012 and 2013 on several U.S. banks and a New York dam, sources familiar with the matter have told Reuters.
THE EASTER BUNNY got into a brawl at a NJ shopping mall.
A PARROT is hanging out in the London Underground. Norwegian Blue; beautiful plumage.
MUTANT MAGGOTS Could Help Wounds Heal Faster.
THE PEEPS TOURNEY OF CHAMPIONS: The annual WaPo Peeps diorama contest meets March Madness.