THE WEEKEND STARTS HERE:
...with AIMEE MANN's CHRISTMAS CAROL (profanity warnings): Part One has your Scrooge-y set-up with Michael Penn. Part Two features The Office's John Krasinski. Part Three has Michael Cera. Part Four has John C. Reilly.
TOM JONES stopped by WFUV for a chat and mini-set.
JULIA HOLTER stopped by WFUV's Studio A for a chat and mini-set.
THE LINE OF BEST FIT has compiled a free Christmas album featuring all new songs.
DAVID BOWIE drops "Lazarus," ahead of ★. There's also some chat with Bowie's long time friend and producer Tony Visconti and his new found friend/saxophonist and band leader Donny McCaslin.
TOM WAITS gives a reading of a "Christmas Card From a Hooker in Minneapolis."
CHEAP TRICK (a Pate influence), Deep Purple, Chicago and Steve Miller among the acts that will be inducted into the Rock and Roll Hall of Fame. RICK NIELSEN held court with Rolling Stone and Billboard regarding the honor.
ALL SONGS CONSIDERED released their Listeners' Poll for 2015.
THE CRANBERRIES' singer Dolores O'Riordan is facing jail time after pleading guilty to assaulting an air hostess and police officers whilst on a flight during November 2014.
ADAM ROTH, a guitarist who played with the Del Fuegos, Jim Carroll, Evan Dando and many more, has passed away after a battle with bile duct cancer.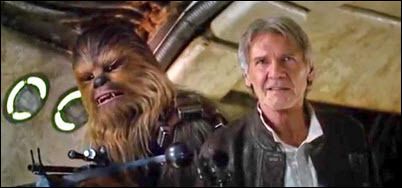 NOW SHOWING: This week's wide releases include Star Wars: The Force Awakens, which is currently scoring 94 percent on the ol' Tomatometer; Alvin and the Chipmunks The Road Chip, which is scoring 18 percent; and and Sisters, scoring 71 percent.
STAR WARS: THE FORCE AWAKENS, the seventh episode in the franchise, is the seventh one I've seen on opening day, so I may be a little biased here...but I shant spoil anything. Suffice it to say it could never be like the original, which was literally unlike anything anyone had ever seen and which (for better or worse) largely reshaped the modern movie business. It is also a marked improvement on the sequels, which I probably liked more than most of you (and most of you are right -- if you have never seen the epic-length critique of The Phantom Menace from Red Letter Media, it's well worth the time). Being post-Return of the Jedi allows J.J. Abrams & Co. to maintain the funkier 70s-80s look and vibe of the original trilogy, whereas the prequels had a much glossier, overly CGI-ed feel. Many beloved characters from the original trilogy also return, and bringing in screenwriter Lawrence Kasdan (The Empire Strikes Back) ensures their dialog has just the right tone. The new characters are not the archetypes of the original, but are sufficiently revealed for this episode through the machinations of the plot. The opening crawl inspires confidence of a return to form. Over the ensuing hours, you will see old things, new things, new twists on and upgrades of old things, many things you want to see and at least one thing you really don't want to see. I got a lump in my throat several times, but I think even casual fans will find The Force Awakens to be a worthy successor to the original trilogy and a promising start to Disney's expansion of the universe Lucas created.
AZALEA BANKS was arrested outside Meatpacking club Up&Down on Wednesday after she allegedly went berserk and attacked a female security guard by punching her and "biting her in the boob."
JUSTIN BIEBER & KOURTNEY KARDASHIAN are a thing, even if it's just a fling.
MACAULAY CULKIN plays a disturbed, adult version of his Home Alone character in a new web series.
MICHAEL JACKSON's Thriller has become the first album ever to be certified 30 times multi-platinum for U.S. sales.
SAN BERNADINO: Enrique Marquez, the friend of terrorist Syed Rizwan Farook, has been arrested on criminal charges in connection with the Dec. 2 massacre in San Bernardino, federal authorities said Thursday.
GERMAN Chancellor Angela Merkel's refugee policy has attracted praise from all over the world, but her latest speech called muti-culturalism a "sham" and addedg that Germany may be reaching its limits in terms of accepting more refugees.
AN OTTER snacks and chills out.
HOW TO RAISE 30-year-old cats.
A BABY GOAT suffered a horrible fate in Gothenburg, Sweden.
A RACCOON was found lounging near the bathroom sink in a Houston family's home.