THE WEEKEND STARTS HERE:
... with GARAGE ROCK! It's the time of year when I bring out The Standells - "Dirty Water/ Why Pick On Me", but I couldn't stop there. Let's have a dozen Nuggets, like Music Machine - "Talk Talk"; Blues Magoos - "We Ain't Got Nothin' Yet"; The Knickerbockers - "Lies"; The Outsiders - "Time Won't Let Me"; Count Five - "Psychotic Reaction"; The Seeds - "Pushin' Too Hard"; 13th Floor Elevators - "You're Gonna Miss Me"; The Leaves - "Hey Joe"; Electric Prunes - "I Had Too Much To Dream Last Night," the Crazy World of Arthur Brown - "Fire" and The Nazz- "Open My Eyes."
MARGOT & THE NUCLEAR SO & SOs advance stream Sling Shot To Heaven.
CAYUCAS stopped by World Cafe for a chat and mini-set.
BROKEN BELLS stopped by World Cafe for a chat and mini-set.
OASIS: An Acoustic Compilation.
IAN HUNTER & MICK RONSON deliver the goods on "All The Young Dudes" in Cleveland on June 18 1979. Because Cleveland rocks (nsfw).
THE AFGHAN WHIGS talk to Exclaim about the genesis of Do The Beast. (Thx, Frank Yang.)
BOB DYLAN escapes silly charges of racism (based on a slightly less silly comment), but Rolling Stone's French edition publisher Michael Birnbaum is still facing anti-discrimination charges.
COURTNEY LOVE already backpedalling her Springsteen criticism, moves on to attacking QotSA.
RONNIE SPECTOR talks to The Guardian about being the bad girl with big hair, the glass coffin in her basement, and whether she should have married John Lennon instead of Phil Spector.
THE CUTOUT BIN: From Gene Wilder to Nirvana, from Big Country to KISS, from Echo & the Bunnymen to Vanilla Fudge, plus the Doors, Wilco, Concrete Blonde, Stealer's Wheel and more -- this Friday's fortuitous finds are streaming from the Pate page at the ol' HM.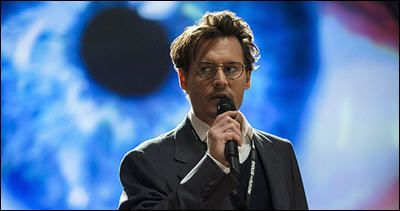 NOW SHOWING:This weekend's wide releases include: Transcendence, currently scoring 17 percent on the ol' Tomatometer; Heaven Is for Real, which opened on Wednesdayat 55 percent; A Haunted House 2, which was not screened for critics; and Bears, scoring 87 percent.
BRYAN SINGER: The X-Men: Days of Future Past director has been accused of sexually abusing a teenage boy in a lawsuit filed Wednesday in Hawaii federal court. Singer's attorney, Marty Singer, called the lawsuit "absurd and defamatory."
ANDRE JOHNSON: The Wu-Tang affiliated rapper severed his penis and jumped off a building. Doctors weren't able to reattach his penis.
MILEY CYRUS: Still recovering from her severe allergic reaction earlier this week, and will "remain hospitalized."
WILL ARNETT is divorcing AMY POEHLER.
CHELSEA CLINTON announced she is expecting her first child later this year.
TOM CRUISE denied he has been secretly dating Orange Is the New Black star Laura Prepon for several months.
LINDSAY LOHAN would neither confirm nor deny to Andy Cohen the accuracy of the list of guys rumored to be among her sexual conquests.
KIRSTEN DUNST, interviewed by Sofia Coppola.
MRS DOUBTFIRE is getting a sequel?
WHY IS THIS SATURDAY DIFFERENT FROM ALL OTHER DAYS? Because ABC has its annual showing of The Ten Commandments, a grand spectacle featuring acting from Edward G. Robinson and Anne Baxter that is so over-the-top that Yul Brenner starts to look good by comparison. And while Robinson's Dathan never actually spoke the line "Where's your Messiah now?" in the movie, it -- like "Play It Again, Sam" (not spoken in Casablanca) -- has become part of a part of our culture. The line actually comes from Billy Crystal, originally a bit from the Oscars, iirc. It later turned up o­n The Simpsons, with Chief Wiggum playing Dathan to Ned Flanders' Moses.
UKRAINE: The United States, Russia, Ukraine and the European Union reached an agreement on Thursday evening that called for armed pro-Russian bands in eastern Ukraine to surrender the government buildings they have seized and that outlined other steps to defuse a crisis that has rattled the international community.
VENEZUELA: President Nicolás Maduro, has taken severe—and many say violent—measures to stamp out dissent during the past 10 weeks of turmoil caused by a protest movement. Venezuelan students are marching barefoot, building crucifixes and planning to burn effigies of President Nicolas Maduro to try and breathe new life into their protest movement over Easter.
LIBYA: A female US embassy employee who was kidnapped and injured by gunfire managed to escape her captors. A Tunisian diplomat was reportedly kidnapped in Tripoli.
SYRIA has submitted a "more specific" list of its chemical weapons to the global regulator overseeing the destruction of its stockpile after discrepancies were reported by inspectors on the ground, officials said. Oops.
DOGS starting dinner with a silent prayer.
PEEPS: Here are the finalists of the WaPo's 2014 Peeps Diorama Contest.
GIANT ASIAN HORNETS may invade Britain. Now will you let the people go?
AN ONSLAUGHT OF SNAKES force a school closure in Kyrgyzstan. Now will you let the people go?
COCKROACHES rain from the ceiling at Blue Ribbon Sushi in Soho. Now will you let the people go?