PHIL COLLINS sings "In The Air Tonight" and Genesis' "Land Of Confusion" (for the first time in 9 years) with a middle school band for Twofer Tuesday. Not the greatest performances, but a very nice gesture.
PARQUET COURTS advance streams Sunbathing Animal.
CLAP YOUR HANDS SAY advance streams Only Run.
JOE HENRY advance streams Invisible Hour.
MESHELL NDEGOCELLO advance streams Comet, Come to Me.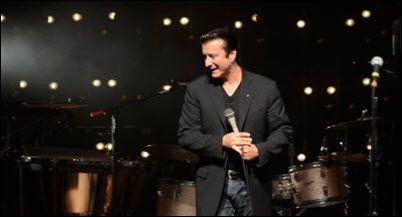 STEVE PERRY joined EELS at the Fitzgerald Theater, singing "Open Arms" and "Lovin' Touchin', Squeezin'" to complete a retro twofer for Twofer Tuesday.
R.E.M.: Mike Mills talks to The Guardian about where the band's Unplugged sessions fit into their career.
BOB MOULD talks to Stereogum about the feelings and experiences behind Beauty & Ruin, his undeniable chemistry with bandmates Jason Narducy and Jon Wurster, the recent reissue of his landmark solo debut Workbook, and much more.
CHRISSIE HYNDE talks to The Guardian about her first rock show, going solo after 35 years in The Pretenders, and more.
THE 20 BEST ELVIS COSTELLO SONGS, according to Paste.
WEEKEND BOX OFFICE: X-Men: Days of Future Past dominates the chart with 111 million over the holiday weekend, 94.1 million over the regular weekend. The number of 90+ million debuts this yearhas to have studios smiling (and bodes well for the next Transformers flick). There was a bit of frontloading, but the mutants' worldwide haul will likely make up for any money lost on X-Men: First Class, even with a 200 million budget to recoup. Getting Lennifer Lawrence and Michael Fassbender (likely on the cheap, before they became huge stars) in on the ground floor of the reboot is paying dividends now. Godzilla places with 39.4 million, taking a 58 percent hit from Marvel's heroes. The big lizard still has 323 million worldwide...and does not open in China and Japan until June and July. The debut of Blended shows with 18.2 million against a 40 million budget, a measure of how much Adam Sandler has damaged his brand these past few years; even Drew Barrymore was no help here. Neighbors was close behind with 17.2 million and a 117 million domestic total against an 18 million budget.The Amazing Spider-Man 2 rounds out the Top 5 with another 10 million, taking a big hit from the X-Men and the perception that it isn't up to snuff. Yet overseas, Spidey has alreadygrossked 489 million, whereas the (better) Captain America sequel has 453 million.
IAN McKELLEN, a/k/a Magneto, Gandalf, etc., just turned 75; Digital Spy lists eight of his great performances.
KIM KARDASHIAN & KANYE WEST wed over the weekend. The New York Post rose to the challenge.
EMMA WATSON graduated from Brown University with a degree in English Lit.
CHRISTINA RICCI is pregnant and expecting her first child with husband James Heerdegen.
FLOYD MERRIWEATHER & T.I. got into a fight at Fatburger.
DAREDEVIL gets a new showrunner, as the original choice heads off to helm The Sinister Six.
UKRAINIAN anti-terrorist forces, backed by fighter jets and helicopters, attacked armed militants who took over Donetsk International Airport on Monday, destroying an anti-aircraft gun mounted by insurgents. The assault came even as president-elect -- and chocolate magnate -- Petro Poroshenko pledged to travel to eastern regions to seek peace with insurgents.
VENEZUELA: The wives of two Venezuelan opposition mayors ousted during anti-government protests have won landslide victories in special elections to choose their husbands' replacements.
LIBYA: Khalifa Haftar, head of the Libyan National Army, called newly-elected Prime Minister Meitig "illegitimate" and said parliamentary elections should be postponed for at least three months while LNA forces rid the country of terrorists. Haftar's forces are conducting reconnaissance over Derna, looking for Islamist militants, including Ansar al Sharia.
SYRIA: A May 3 message from al Qaeda emir Ayman al Zawahiri was posted on jihadist forums, calling for the Islamic State of Iraq and the Sham to leave Syria and fight in Iraq, and urging clashing jihadists in Syria to submit to an independent sharia court.
LION & TIGER & BEAR: Oh, my!
DOGS' PLAY: Beneath this apparently frivolous fun lies a hidden language of honesty and deceit, empathy and perhaps even a humanlike morality.
HERRING also have an interesting way of communicating.
BEST IN SHOW, courtesy of... the British Tarantula Society.