PATE REUNION: Jon, Mike & Jon (and we hope Ron) will be retaking a stage somewhere near Iowa State University on July 5th, 2013, just one short decade after their last reunion gig. Clear your calendar for something transcendent, a train wreck, or both! If you're on the Facebook, check in with the event page.
THE WEEKEND STARTS HERE:
... with THE BYRDS! Pretty much because I dig them as we turn into Spring (or Fall). Let's start with a rare 1965 clip of their breakthrough smash cover of "Mr. Tambourine Man." There are screaming girls, plus go-go dancers when they hit Shivaree for "All I Really Want to Do" and "Feel A Whole Lot Better." Next up is a rare sync of "I Knew I'd Want You." There are even more dancers when they cover Buddy Holly's "Not Fade Away" for Shindig! on June 23, 1965, while I'm pretty sure that's Ed Wynn introducing "Chimes of Freedom." You might recognize the voice introducing "Bells Of Rhymney" from poolside in August 1965 and "It Won't Be Wrong" from a corral in January 1966 on Where The Action Is. BONUS: Want a couple in color? Here's "Turn, Turn, Turn!" and "Mr. Spaceman." DOUBLE BONUS: A rare 1967 sync of "Eight Miles High."
WIRE is advance streaming Change Becomes Us.
SURFER BLOOD stopped by Morning Becomes Eclectic for a session.
TRUE BELIEVERS play a Texas-influenced set live on KEXP from Mellow Johnny's in Austin, TX during SXSW 2013.
TELEKINESIS plays catchy power pop tunes (including a cover of INXS' "Don't Change") to the crowd at Mellow Johnny's Bike Shop for KEXP during SXSW 2013. And here's Michael Lerner talking to Stereogum about his new record, which album we all need to go out and buy this second, and why we should all listen to more Howard Jones.
MAGNOLIA ELECTRIC CO., Live in Curtis Heights, May 17, 2009.
THE ISLEY BROTHERS: "Shout." Shindig. Friday. A little bit louder now.
WAVVES: Nathan Williams talks to Pitchfork about fighting (and paying) for his own art, and his path from notorious slacker to one of indie rock's biggest workaholics.
JASON MOLINA is eulogized by Alexander Tudor at Drowned In Sound.
VILLAGERS: Conor O'Brien talks to Drowned in Sound about critical acclaim, religion, lyrics, influences and more...
THE MOST CONTOVERSIAL MUSIC VIDEOS, according to Flavorwire.
CUTOUT BIN: From Sonny Curtis to The Strawbs, from Wilson Pickett to Wavves, from Adam and Binki to The Zombies, plus Fleetwood Mac, Husker Du, CCR, Van Morrison and more -- this Friday's fortuitous finds are streaming from the Pate page at the ol' HM.
NOW SHOWING: This weekend's wide releases are: The Croods, which is currently scoing 67 percent on the ol' Tomatometer; Olympus Has Fallen, which is scoring 57 percent; and Admission, scoring 40 percent. Also, Spring Breakers expands wide at 74 percent (but 56 percent among top critics).
KIM KARDASHIAN secretly sat for her divorce deposition and testified that when she accepted Kris Humphries' proposa, she really did love him.
MILEY CYRUS & LIAM HEMSWORTH are reuniting.
TIGER WOODS: Lindsey Vonn is reportedly not freaked out about his past.
BOOBY BROWN has been sprung from jail, but remains under house arrest.
HARRY REEMS, whose starring role in "Deep Throat" in 1972 made him America's first bona fide male pr0n star — and whose life, more than most, embodied the time-honored American narrative of fame, failure and redemption — died on Tuesday in Salt Lake City, Utah. He was 65.
30 AMAZING KUBRICK CINEMATOGRAPHS: The fancy name for animated GIFs.
STAR TREK: INTO DARKNESS has an international trailer online.
NORTH KOREA threatened to attack US bases on Guam and Okinawa in response to military exercises involving the US and South Korea. North Korea also was suspected in a series of cyberattacks against South Korea.
IRAN: Supreme Leader Ayatollah Khamenei said Iran was not opposed to direct talks with the US to resolve issues over its nuclear program but he was not optimistic. He also said Iran would destroy Tel Aviv and Haifa if Israel attacked Iran's nuclear infrastructure.
SYRIA: A senior pro-government Sunni cleric was killed in a suicide attack inside a mosque in Damascus along with 42 other people. Rebels captured villages near the Golan Heights. The UN said it would investigate claims that chemical weapons were used in an attack in Aleppo earlier this week.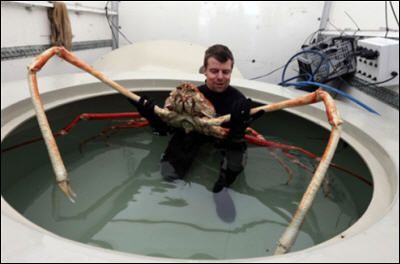 MEET BIG DADDY, a giant spider crab at the Blackpool aquarium.
A SNAKE is framed in a house fire case.
THAT DEAD DEER? He's just resting.
A CHINESE HEN laid a giant egg... with another egg inside.