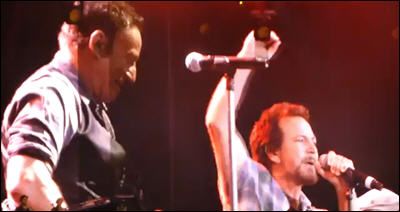 BRUCE SPRINGSTEEN & EDDIE VEDDER take the "Highway to Hell" in Melbourne.
ARCTIC MONKEYS stopped by The Current for a chat and mini-set.
TONY JOE WHITE stopped by World Cafe for a chat, mini-set, and pork salad.
LUCIUS plays a mini-set at KUTX.
LA LUZ plays a mini-set on KEXP's Midday Show.
ETERNAL SUMMERS drop "A Burial" as a single, and it's not funereal.
DAMON ALBARN plays his "Lonely Press Play" and Terry Jacks's "Seasons in the Sun" on the BBC for Twofer Tuesday.
THE WHO cover "Barbara Ann" and blast through "My Generation," live on French TV, circa 1966, for Twofer Tuesday.
ST VINCENT: Annie Clark writes about Twitter and self-promotion for The Guardian.
WILLIS EARL BEAL knows he can be a difficult character.
XTC: The Quietus reassesses Oranges & Lemons 25 years later.
TEN 21st CENTURY 10/10s, as chosen by Clash Music.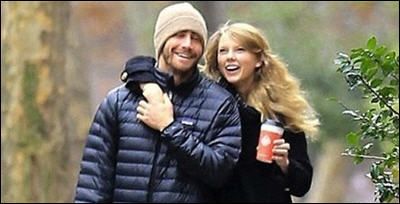 TAYLOR SWIFT was heartbroken after she gave her virginity to Jake Gyllenhaal and he bailed on her 21st birthday party, leaving the singer locked in a bathroom crying the entire night, RadarOnline is exclusively reporting. Too good to check.
KATY PERRY & JOHN MAYER are not engaged, contra V-Day rumors.
EMILY BLUNT & JOHN KRASINSKI welcome a daughter named Hazel.
SELENA GOMEZ is hitting the bottle hard after bailing from rehab just weeks ago, according to TMZ.
LEONARDO DiCAPRIO spend V-Day with model-galpal Toni Garrn and her mother.
VENEZUELA ordered three American Embassy officials to leave the country, saying they had been recruiting students to take part in violent antigovernment protests, in the latest in a series of expulsions that have marked a low point in relations between the two countries.
SYRIA: The Supreme Military Council replaced head Salim Idriss with Brigadier Abdullah al-Bashir, citing "the difficulties faced by the Syrian revolution." An activist group said about 6,000 people have died in Syria since the Geneva II talks started, the highest daily toll in the conflict so far. The Al Nusrah Front and the Islamic State of Iraq and the Sham battled regime forces in Reef Dimashq.
IRAQ: The Islamic State of Iraq and the Sham killed 11 civilians in Baghdad and two more in Qayyarah, three soldiers in Kirkuk, two soldiers in Miqdadiyah, two Awakening fighters in Taza, a policeman in Baghdad, and a policeman near Mosul. An ISIS suicide bomber killed three policemen in Ramadi. Security forces killed 10 ISIS fighters in Anbar.
LEBANON: A military judge ordered the arrest of four Islamic State of Iraq and the Sham militants for membership in the al Qaeda-linked group and planning attacks in Lebanon.
A RACCOON pops bubblewrap.
PACKS OF CHIHUAHUAS are wreaking havoc in a Phoenix neighborhood.
AN AGGRESSIVE CAMEL was captured by sheriff's deputies and animal control in Southern California. Almost waited until tomorrow for this one.
A WHITE TIGER took up a disturbed man's offer for lunch.