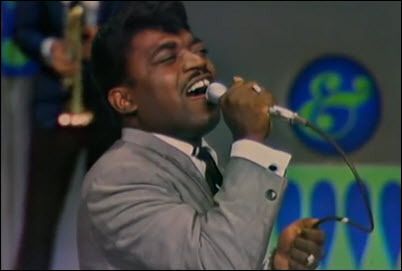 PERCY SLEDGE, the R&B belter whose biggest hit, "When a Man Loves a Woman," became a cornerstone of soul music, died Tuesday. He was 73. The Guardian collects four more of his best.
LUNA: Watch six songs from their first American show in about a decade.
PASSION PIT is advance steaming Kindred via iTunes Radio.
NAI HARVEST advance streams Hairball.
ALL SONGS CONSIDERED features new tracks from the Milk Carton Kids, Buil To Spill, Protomaryr, and more.
GEORGE HARRISON & ERIC CLAPTON: "Taxman." Obligatory.
DAVID BOWIE's new songs for Lazarus may be "classics."
THE MOUNTAIN GOATS: Peter Hughes talks to the Cincinnati Inquirer about how much of the Mountain Goats' operation remains in John Darnielle's control. (Thx, LHB.)
CORNERSHOP: Tjinder Singh revisits the group's breakthrough album, When I Was Born for the 7th Time, at SPIN. Interesting comments on Radiohead also.
STEALING SHEEP: The art-psych-pop trio is profiled by The Guardian.
RACHEL McADAMS & JAKE GYLLENHAAL may be an item.
RITA WILSON was recently diagnosed with breast cancer and has undergone a double mastectomy and reconstructive surgery.
BILLY JOEL and his girlfriend, Alexis Roderick, said in a statement Tuesday they are expecting their first child this summer.
DENNIS QUAID melted down, Christian Bale-style, on set...or did he?
LOVE & MERCY has a longer, more revealing trailer online.
WONDER WOMAN director Michelle MacLaren has dropped out due to what the parties involved are calling creative differences.
RUSSIA: The Pentagon on Monday denounced a recent incident in which a Russian pilot intercepted a U.S. aircraft over the Baltic Sea as "sloppy airmanship." Oh, yeah...sloppy...that's it.
YEMEN: Local militiamen in the Yemeni city of Aden said they captured two Iranian military officers advising Houthi rebels during fighting on Friday evening.
LIBYA: New Libyan peace talks kicked off in neighboring Algeria. Jordan's King Abdullah II met with Libyan General Khalifa Haftar and pledged his country's support in confrontation with "terrorist organizations."
IRAQI Prime Minister Haider al-Abadi made an in-person appeal to President Obama on Tuesday for more help defeating the Islamic State militants. The Reuters news agency announced that its Baghdad bureau chief has left Iraq after he was threatened on Facebook and denounced by a Shiite militia television station following a Reuters report alleged lynching and looting in Tikrit.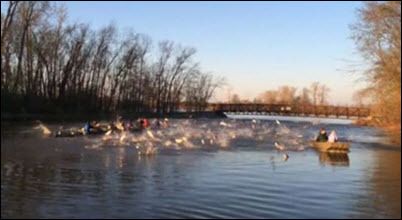 ASIAN FLYING CARP attacked Washington University's first-year men's rowing team.
A MOUNTAIN LION hung out under a Los Feliz home for a day.
DUCKS wandered around DC for no clear reason, like most.