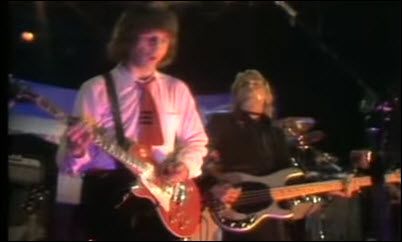 THE CARS relesaed "Candy-O" this week in 1979. Add "The Dangerous Type" for Twofer Tuesday.
FATHER JOHN MISTY, Live at Northside 2018.
BECK, Live at Northside 2018.
JORJA SMITH plays a Tiny Desk Concert.
FLASHER streams Constant Image.
SPIRITUALIZED shares a video for their new song, "I'm Your Man."
DAVID BOWIE: Signature examines the literary influences on Space Oddity. (Thx, LHB.)
JOHNNY MARR, on his new album, avoiding political pronouncements, and his long marriage to Angie.
THE NUMBER ONES looks at "I Want To Hold Your Hand" and the beginning of the Beatles era.
ANTHONY BOURDAIN, on NYC's music scene in 1977.
BACK TO THE FUTURE 4 definitely isn't happening.
ARIANA GRANDE & PETE DAVIDSON are engaged.
PAUL McCARTNEY treated James Corden to the ultimate Magical Mystery Tour of Liverpool on Saturday.
JADA PINKETT SMITH talks candidly about sex.
INFINITY WAR: Directors Joe and Anthony Russo respond to the most common complaint.
NETFLIX: Inside the Binge Factory.
THE 50 GREATEST COMEDIES of the 21st Century, according to Rolling Stone.
DON'T JUMP! A 180-pound St. Bernard is rescued from Spring Lake Park rooftop.
IT'S ME OR THE DOGS! The wife chose the dogs.
GATORLAND: Just the spot for a marriage proposal.
POLICE RESCUED A PIG near a New Jersey Dunkin' Donuts and then nicknamed him "Pork Roll."