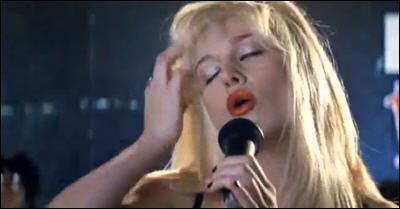 THE CLASH AT DEMONHEAD covers Metric's "Black Sheep." I remember when Envy was Nat Oh yeah? Oh yeah.

NEKO CASE performs live at KEXP.

WELLES stops by World Cafe for a chat and mini-set.

THE SEA AND CAKE stops by Morning Becomes Eclectic.

EELS share a video for "Rusty Pipes."

STEVE MILLER: Some People Call Him the Space Cowboy. I Call Him Mr. Steve.

STEVE ALBINI won the first-prize at the 2018 World Series Of Poker Seven Card Stud event after returning from a European tour with his band Shellac .

NICK KNOX, the furrow-browed drummer for the great punk band the Cramps, died Friday at 60.

MATT "GUITAR" MURPHY, guitarist for the Blues Brothers and noted sideman for blues legends like Howlin' Wolf, Muddy Waters and Memphis Slim, died Friday at the age of 88.

THE NUMBER ONES ooks at Mary Wells' Smokey Robinson-written "My Guy," one of the iconic early Motown hits.
WEEKEND BOX OFFICE: Incredibles 2 romped atop the chart with a stunning 180MM; it's the best opening weekend for an animated film ever (beating Finding Dory) and the eighth best opening weekend ever (the third best of 2018). It grossed only 51MM overseas, but did not open in many markets due to the World Cup. Can it make 500MM with another Jurassic World coming Friday? Now that's a cliff-hanger. Ocean's 8 places with 19.6MM on a 53 percent drop, on track with Ocean's 13, but will that be enough to continue trying to revive the franchise? Tag shows with 14.6MM against a 28MM budget, and is probably disappointing. Solo drops to the fourth sloy with 9MM on a 42 percent drop that's not bad when losing over a thousand screens, but this one still has to hurt Disney, even as it celebrates Pixar's smash. Deadpool 2 rounds out the Top Five with 8.8MM; it's close to 300MM now, but that's considerably less than the 363MM the original made -- was it the release date, or has the novelty worn off? Hmm.
CHRIS HARDWICK is losing his gigs after an ex-girlfriend claimed he sexually and emotionally abused her.
JUSTIN BIEBER & HAILEY BALDWIN, together again.
GIULIANA RANCIC will return as co-host of E! News this September.
STAR TREK: DISCOVERY cashiers its showrunners.
INTERVIEW MAGAZINE gets another 15 minutes.
MARTIN BERGMAN, the movie producer behind films like Scarface and Sea of Love, has passed away at age 92.
A COLONY OF BATS protect books in Portugal's historic Joanina Library.
FAT DOGS and people have similar views on food.
A 23-FT LONG PYTHON devours an Indonesian woman whole.
A GRANDMOTHER kills a bobcat with her bare hands.