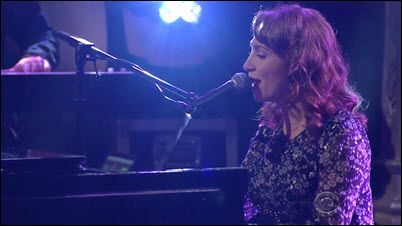 REGINA SPEKTOR played "Bleeding Heart" on Colbert.
DRIVE-BY TRUCKERS stopped by The Current for a chat and mini-set.
MICROWAVE advance streams Much Love.
BELLOWS advance streams Fist & Palm.
ALLSONGS CONSIDERED features tracks from Dirty Projectors, Leonard cohen, Johnny Swim, and more in the lstaest edition.
LOU BARLOW shoots "The Breeze" ahead of the Apocalypse Fetish EP.
JAMES CHANCE & THE CONTORTIONS return with "Melt Yourself Down."
DUNGEN shares "Jakten genom skogen" ahead of Häxan.
DUMPTRUCK: "Back Where I Belong."
TEENAGE FANCLUB is profiled at Magnet.
BOB DYLAN is releasing all of his 1966 live recordings.
GENE CLARK: Ten of His Best.
JOHN D. LOUDERMILK, best known for writing the Nashville Teens' 1964 smash, "Tobacco Road," has died aged 82. His songs were recorded by artists as diverse as Jefferson Airplane, Eddie Cochran, Johnny Cash and Marilyn Manson.
BRANGELEXIT: People goes "Inside Angelina Jolie's Plot to 'Destroy' Brad Pitt in Divorce, Custody Battle<" which is interesting given the couple's past relationship with the mag.
COURTENEY COX is expressing her concern over the fact that her close pal and former Friends co-star, Jennifer Aniston, is being dragged into all the drama surrounding Brad Pitt and Angelina Jolie's shocking divorce.
TOM HIDDLESTON, Interviewed by Benedict Cumberbatch.
AMY SCHUMER is a favorite of malware creators.
MILEY CYRUS is profiled by Elle.
ALEC BALDWIN will be playing Donald Trump on SNL.
JOHN WICK looks to have a sidekick in the sequel.
FANTASTIC BEASTS AND WHERE TO FIND THEM has an expansive new trailer online.
IRAQ: The Department of Defense is preparing to dispatch 615 more U.S. troops to Iraq to help government forces oust ISIS from the city of Mosul, the White House announced Wednesday.
UKRAINE: A Dutch-led investigation largely confirmed the Russian government's already widely documented role not only in downing a Malaysia Airlines plane over Ukraine two years ago, but also in the subsequent cover-up, which continues to this day.
WATSON THE DOG practices his trust falls.
A VENOMOUS SPIDER bit an Auusie on his penis. Again.
RATTLESNAKES are losing their rattles.
EEK! Police in Minnesota came to the aide of a local woman who pulled over to the side of a highway after finding a mouse in her car.