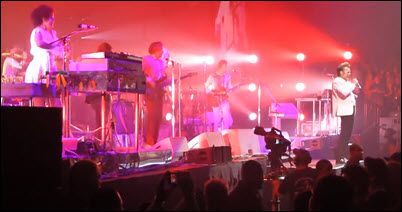 BUSTER POINDEXTER joins ARCADE FIRE in Brooklyn for "Hot Hot Hot" after the band syncs David Johanssen's "Personality Crisis." And there was a conga line.
BLONDE REDHEAD advance streams Barragán.
THE GOTOBEDS advance stream Poor People Are Revolting.
ZAMMUTO advance streams Anchor.
SINKANE advance streams Mean Love.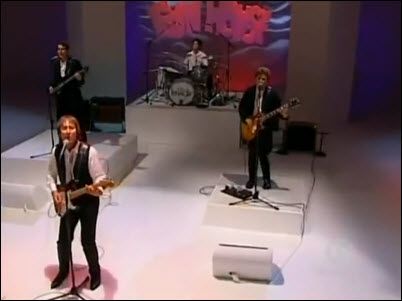 THE KNACK: "My Sharona" topped the chart at this time in 1979 and would remain there for five weeks.
CRAIG FINN: The Hold Steady frontman talks to The Rumpus about his writing process, the purpose and function of songs, and the relationship of songs to other forms of writing.
TY SEGALL Guest DJs All Songs Considered, mixinng his new material withclassic songs that inspired him.
PAST MTV VMA WINNERS, ranked by Stereogum. REM beaten by Katy Perry. Sigh.
20 CONTOVERSIAL MUSIC VIDEOS, listed by NME.
WEEKEND BOX OFFICE: Guardians of the Galaxy retakes the top of the chart with 17.6 million, as all of the new competition fell short. Marvel's 251.9 million domestic take officially pushes GotG past Transformers 4 to become the top grosser of the summer.And it will soon pass Captain America: The Winter Soldier to become the biggest grossing movie of the year. Worldwide, Guardians is just short of the roughly 500 million it needs to profit...but has yet to open in China or Japan. Teenage Mutant Ninja Turtles shows (if the estimates hold up) with 16.8 million, and is on track to wind up in the black. If IStay, which most gurus picked for the top slot, showed with 16.4 million, as a strong Friday petered out over the weekend proper. Nevertheless, the teen weeper has a mere 11 million production budget. Let's Be Cops takes the fourth slot with a fairly leggy 11 million and is near profitability on domestic receipts alone. The debut of When The Game Stands Tall rounds out the Top 5 with 9 million; it may need some help from the faith-based community to recoup a 15 million budget plus marketing costs. Normally, this is the spot where I'd note that Expendables 3 is flopping, but Frank Miller's Sin City: A Dame To Kill For did even worse in its debut, coming in eighth with 6.5 million, mostly bad reviews and bad word of mouth against a rumored 60-70 million budget. Ouch.
FRANK MILLER'S SIN CITY: A DAME TO KILL FOR, btw, pretty much deserved the bad reviews and bad word of mouth. Most of the reviews note the sequel is more explicit--both in nudity and violence--than the original, yet more boring. On the last point, I tend to disagree. The problem with A Dame To Kill For is not necessarily that it's boring; it's certainly as visually stylish (and stylized) as the first one. Rather, the problem is that this one is much more joyless. Granted, it seems Frank Miller and Robert Rodriguez set out to tell a more grim set of stories this time around, but there's even less sense of comic relie, let alone outright fun this time. Moreover, the original tended to focus on the classic noir theme of the ambigous antihero rising to some level of heroism and --while other noir tropes abound here, there's much less heroic in these tales.
SUGE KNIGHT: The famed music producer (and jailbird) was shot six tiimes at a pre-VMAs party in a Los Angeles nightclub hosted by singer Chris Brown.
NICKI MANAJ: One of the singer's backup dancers was bit by a boa constrictor during a VMAs rehearsal of "Anaconda."
IGGY ALZALEA is so Fancy that she fell offstage at a pre-VMAs benefit show.
THE MTV VMAs went to these folks; there's also video of the perfomances at the link.
GWYNETH PALTROW is very happy that Chris Martin is dating Jennifer Lawrence. No, really, she is totally happy. Totally.
IAN SOMERHALDER & NIKKI REED are already living together after three weeks of dating.
JOSH CHARLES and his wife Sophie Flack are expecting their first child together.
LORD RICHARD ATTENBOROUGH, the actor (The Great Escape, Ghandi, Jurassic Park) and film director (Cry Feedom, Chaplain), has died just days before his 91st birthday. At various times he was chairman of the British Film Institute, Channel 4, Goldcrest Films, the Royal Academy of Dramatic Arts and Capital Radio and a director of the Young Vic and the British Film Institute.
CHINA broadcast an andless loop of James Foley's execution on a giant video screen in downtown Beijing.
UKRAINE: The Russian military has moved artillery units manned by Russian personnel inside Ukrainian territory in recent days and is using them to fire at Ukrainian forces, NATO officials said on Friday. Don't call it an invasion, y'all. Pro-Russian separatists in eastern Ukraine have marched dozens of captured government soldiers through the city of Donetsk.
LIBYA: Tripoli Airport is reportedly in flames, after its capture by Islamist forces following weeks of fighting.
EGYPT: The top Islamic authority in Egypt, revered by many Muslims worldwide, launched an Internet-based campaign Sunday challenging an extremist group in Syria and Iraq by saying it should not be called an "Islamic State."
SYRIA: The Islamic State captured a major airport, reportedly beheaded a number of captured Syrian soldiers and put their severed heads on display in the city of Raqqa. An American held hostage for two years by the Jabhat al-Nusrah terrorist group has been released. British intelligence agencies MI5 and MI6 have identified 23-year-old Abdel-Majed Abdel Bary as the man suspected of the horrific beheading of American journalist James Foley. Bary is the son of an Egyptian-born militant who is awaiting trial on terrorism charges in Manhattan, due to his alleged involvement in the bombing of US embassies in Kenya and Tanzania in 1998.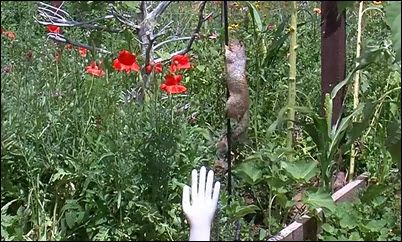 THE SQUIRREL THREAT, fought with Vaseline.
PUPPIES, Photographed Underwater.
A STRAY KITTEN named Alfonso won a cat casting call, pouncing on a role in the upcoming Broadway revival of You Can't Take It With You.
THE ELEPHANT WHISPERER: Peter Mbulu is on a mission to save Kenya's orphaned baby elephants.