THE WEEKEND STARTS HERE: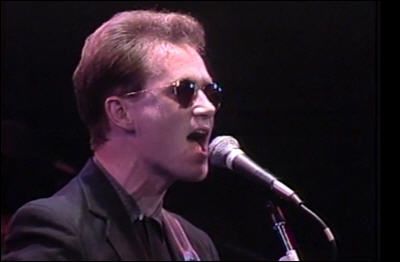 ....with MARSHALL CRENSHAW! Live at The Ritz, July 6, 1985. Your setlist includes: "Blues Is King," "Whenever You're On My Mind," "Shake Rattle And Roll," "Our Town," "Maryann," "Right Now," "The Distance Between Me And You," "Someday Someway," "Little Wild One," " I'm Sorry (But So Is Brenda Lee)," "Yvonne," "There She Goes Again," "Cynical Girl," "Shake Up Their Minds," and "Soldier Of Love."
IRON & WINE and CALEXICO advance stream Years to Burn.
BILL CALLAHAN advance streams Shepherd in a Sheepskin Vest.
KATE TEMPEST advance streams The Book of Traps and Lessons.
THE MELVINS and FLIPPER share "Hot Fish."
WHITNEY shares "Giving Up."
JON PRATT performs "April Song," with lyrics adapted from one daughter's poem, and backup vocals from another.
DR. JOHN, the New Orleans musician who blended black and white musical styles with a hoodoo-infused stage persona and gravelly bayou drawl, died Thursday, his family said. He was 77.
FRAMPTON COMES AROUND: An appreciation of the most underrated and overexposed rock star of the '70s.
BRIAN WILSON announced that he's postponing his upcoming tour to focus on his mental health. Best wishes.
RICHARD HAWLEY on 20 years as a solo artist.
THE BEST ALT-ROCK ALBUMS OF 1994, ranked by Stephen Hyden.
THE 99 BEST SONGS OF 1999, according to Rolling Stone.
THE NUMBER ONES looks at Olivia Newton-John's drippy but effective ballad "I Honestly Love You."
NOW SHOWING: This weekend's wide releases include The Secret Life of Pets 2, which is currently scoring 56 percent on the ol' Tomatometer; and X-Men: Dark Phoenix, which is scoring a mere 24 percent. Late Night is opening at 78 percent, but it may or may not be opening wide; the studio did not confirm a screen count.
BRADLEY COOPER and IRINA SHAYK have officially decided to end their relationship and are amicably working out how to share custody of their daughter.
R KELLY pleaded not guilty to 11 counts of sexual assault and abuse.
ROBERT PATTINSON's take on The Batman won't be another origins story tackling the dark past of Bruce Wayne.
MARGOT ROBBIE, on Quentin Tarantino, Marriage, and the One Word She Hates Being Called.
JENNIFER ANISTON refused to rule out the prospect of a Friends reunion.
MADONNA says disgraced film mogul Harvey Weinstein "crossed lines and boundaries" when they worked together on her 1991 tour documentary In Bed With Madonna.
THR's Drama Actors Roundtable assembles Hugh Grant, Richard Madden, Billy Porter, Stephan James, Diego Luna and Sam Rockwell.
MARCIA CROSS is speaking out about anal cancer in hopes of ending the stigma surrounding the disease.
DOGS, bruh.
WHEN TUG-O-WAR lasts too long and you're sleepy.
A HUGE BLOB that appeared on the National Weather Service's radar wasn't a rain cloud, it was a massive swarm of ladybugs over Southern California.
HAWAII warns tourists of parasitic worms that can burrow into human brains. Presumably from Ceti Alpha V.