THE WEEKEND STARTS HERE:
SLY & THE FAMILY STONE rip through a medley of "Everyday People" and "Dance to the Music," plus "Hot Fun in the Summertime," "Don't Call Me N*gger, Whitey," and "I Want to Take You Higher" on network TV, circa 1969.
AARON LEE TASJAN advance streams Karma For Cheap.' Nice allusions to Thunderclap Newman in "Heart Slows Down."
SAINTSENECA advance streams Pillar of Na.
ETHERS advance stream their self-titled debut.
THOU advance streams Magus; metal's not really my bag, but Pate bassist Mike Kelly might dig it.
ECHO & THE BUNNYMEN share "The Somnambulist."
TOM PETTY: Hear the previously unreleased song "You And Me (Clubhouse Version)."
DEATH CAB's Ben Gibbard pays tribute to Richard Swift.
KT TUNSTALL shares "The River."
SHA LA DAS share "Just For A Minute," which is on a Dap-Tone label.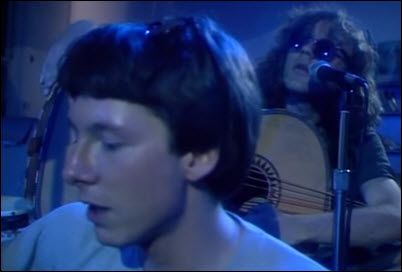 R.E.M.: "Don't Go Back to Rockville," very unplugged.
MITSKI: "I'm waiting for everyone to decide to hate me."
NICO's post-Velvet Underground legacy is briefly essayed at Artforum.
BLOOD ORANGE's Dev Hynes Breaks Down Every Song on His New Album, Negro Swan.
ED KING, the Lynyrd Skynyrd guitarist (and co-author of "Sweet Home Alabama") has died, aged 68.
THE NUMBER ONES looks at Simon & Garfunkel's iconic folk-rock single "The Sound Of Silence."
NOW SHOWING:This weekend's wide releases include The Happytime Murders, currently scoring 27 percent on the ol' Tomatometer; and A.X.L., which has not been screened for critics.
BEN AFFLECK is reportedly back in rehab after an intervention staged by Jennifer Garner.
THE BIG BANG THEORY is ending because Jim Parsons was done with it.
BOND 25: Danny Boyle quit the new Bond film weeks before filming was due to start after a reported dispute over the film's Russian villain.
ARETHA FRAMKLIN's memorial concert next week has a full roster.
BEWITCHED is getting an interracial reboot.
SUSPIRIA: The remake of Dario Argento's Italian horror masterpiece has a trailer online.
A CAT AND A MIRROR: The usual funny, with a twist at the end.
FALLING SHEEP puts a young Irishman in the hospital. Notice they do not fly so much as plummet.
A SUPER SNAKE may emerge from the Everglades.
THE SQUIRREL THREAT: Appeasement in Bismarck.