THE WEEKEND STARTS HERE:
...with A CHRISTMAS SHINDIG! The full episode has gone dark, but still-available clips from 1964 include The Beach Boys' "Dance, Dance, Dance," Bobby Sherman and Donna Loren singing "Keep on Searching," the Righteous Brothers doing "The Jerk" and an awesome milk commercial, Adam Faith with "Watch Your Step," and "Santa Claus Is Back In Town", Bobby Sherman with "Sleigh Ride," Donna Loren returning with a Spector-esque, but rougher "Santa Claus is Coming to Town," and The Beach Boys deliver a set including "Little Saint Nick," "Monster Mash" (yes, really) "Papa Oom Mow Mow," "Johnny B. Goode," and "We Three Kings."
KURT VILE stops by World Cafe.
THE MC50 stops by KEXP.
H.E.R. plays a Tiny Desk Concert.
ALEX CHILTON: Hear his cover of Louis Jordan's "Don't Let The Sun Catch You Crying" and "Lonely Weekends," both preciously unreleased.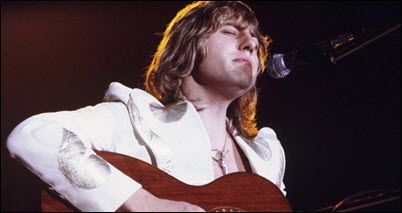 GREG LAKE of Emerson, Lake & Palmer, with his solo hit "I Believe in Father Christmas," which (iirc) got to No.2 in the UK behind Queen's "Bohemian Rhapsody."
THE ROCK & ROLL HALL OF FAME officially announced its 2019 inductees: Radiohead, Janet Jackson, Stevie Nicks, Def Leppard, The Cure, Roxy Music and the Zombies. Radiohead was underwhelmed.
KEITH RICHARDS has given up drinking: "It was time to quit." (Note: he's talking about booze, not blood.)
THE TOP 100 LPs of 2018, according to NME.
WFMU's Free Music Archive is saved (but won't be run by the station anymore).
THE NUMBER ONES looks at the Jackson 5's national debut "I Want You Back," one of the greatest No. 1 singles of all time.
NOW SHOWING: This weekend's wide releases include Spider-Man: Into The Spider-Verse, which is currently scoring 98 percent on the ol' Tomatometer (and deservedly so -- see below); Mortal Engines, which is scoring 28 percent; and The Mule, scoring 68 percent. There's also Once Upon a Deadpool, the PG-13 version of the sequel reimagined through the frame of The Princess Bride, complete with Fred Savage; it's scoring 51 percent, but a share of the profits are going to a cancer charity here because it is mostly a way to get the franchise into the Chinese market.
SPIDER-MAN: INTO THE SPIDER-VERSE is quite arguably the best comic-book movie of the year, in a year we got Black Panther and Incredibles 2. It's a fun-filled visual feast that fully realizes all the dynamism a mind fills in reading comics. It's 3-D. it's 2-D, it's anime, it's Rauschenberg swinging from a skyscraper and popping you in the eyes with a mighty "THWAAK!" It's more psychedelic than Dr. Strange. Yet it's also filled with the sort of character moments that are the secret of the Marvel franchise on top of the phantasmagorical set pieces, ample comic relief, homages to the late, great Stan Lee (plus other artists) and the original Spider-trilogy directed by Sam Raimi. And yes, there's a little something something for those who stay past the end credits.
ELIZA DUSKU got a secret (until now) 9.5MM sex harassment from CBS after working on the set of Bull. And the network cluelessly gave her outtakes that contained evidence of the harassment.
KEN JEONG to host the Oscars?
JENNIFER GARNER and J.J. ABRAMS, together again (professionally).
DUCHESS MEGHAN has had enough of the rumors surrounding her and her family members.
DAX SHEPARD was quick to shut down reports he cheated on Kristen Bell with Julie Andrews' granddaughter, Kayti Edwards.
STARGIRL has cast S.W.A.T.'s Lou Ferrigno Jr. as the Golden Age Hourman.
STAR TREK: DISCOVERY has a Season 2 trailer online.
SONDRA LOCKE, who received a supporting actress Oscar nomination in her first movie role for The Heart is a Lonely Hunter, but may be best known for Sudden Impact, died Nov. 3 at 74.
MANDARIN DUCK meets... Mandarin Dog.
HOW HOUSE CATS spread across the world.
CHRISTMAS IN THE SOUTH: There's a new animal pulling Santa's sleigh this year: "Reingators."
A PARROT has fallen in love with his owner's Amazon Alexa - but keeps using it to order shopping. (NSFW content on the page.)