THE WEEKEND STARTS HERE:
...with THE GO-GOs! They made history as the first all-female band that both wrote their own songs and played their own instruments to top the Billboard album charts. Kind of a hard band to place seasonally. Their debut, Beauty and the Beat, which yielded hits like "Our Lips Are Sealed" and "We Got the Beat," as well as great album cuts like "This Town," "Lust to Love," "Tonite" and "How Much More," came out in late Summer 1981, iirc, and "Lips" was climbing the charts that Fall, so I mentally place the band in this time of year. And it's still warm enough that the title track to the too-quick sophomore album, "Vacation," -- or their cover of the Capitols' "Cool Jerk" -- doesn't sound too out of place. "Get Up and Go" was also a single from that LP, but it didn't make the Top 40. The band would chart twice more -- in 1984, with "Head Over Heels" and "Turn to You" -- before splitting and the near-inevitable reunion tours.
ERIC CHURCH advance streams Desperate Man.
EXPLODED VIEW streams Obey.
TUNDE OLANIRAN advance streams Stranger.
ANNA ST LOUIS covers Spacemen 3, Townes Van Zandt, and Johnny Cash in a Lagniappe Session.
R.E.M. shares an unreleased version of 'E-Bow The Letter' featuring Thom Yorke.
BECK & JENNY LEWIS cover Neil Young's "Harvest Moon" under a harvest moon at Red Rocks Amphitheater.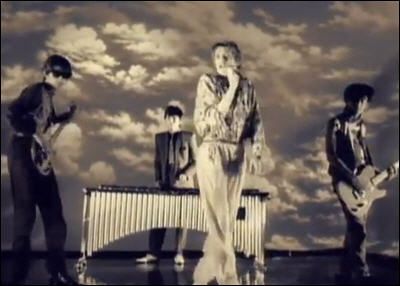 THE PSYCHEDLIC FURS broke through with this video for "Love My Way" on the MTV.
TEENAGE FANCLUB: Norman Blake talks to Drowned In Sound about the past, present and future of the band.
MARISSA NADLER, profiled by the Rolling Stone.
THE BEST DEBUT LPs of 2018 (So Far), according to NME.
THE NUMBER ONES looks at the New Vaudeville Band's music-hall throwback "Winchester Cathedral."
NOW SHOWING: This weekend's wide releases include Night School, which is currently scoring 26 percent on the ol' Tomatometer; Smallfoot, which is currently scoring 73 percent; and Hell Fest, which has not been screened for critics.
ROSE McGOWAN retracts her statement about the Asia Argento sexual assault accusations.
RACHEL WEISZ & DANIEL CRAIG welcomed their first child together, a baby girl.
SOPHIE TURNER says the Game of Thrones finale will divide fans.
CREED 2 has a new trailer online.
TERMINATOR: Arnold Schwarzenegger and Linda Hamilton are reunited in a photo from the set of the reboot.
BRUCE DERN will replace Burt Reynolds in Quentin Tarantino's Once Upon a Time In Hollywood.
KATY PERRY & ORLANDO BLOOM made their red carpet debut as a couple.
JOHN MULLANEY, on the comedy albums that earned a Mount Rushmore spot in his brain.
PEEPING German Shepherd.
A HOME ALONE DOGGO, cuddling with her owner's shoe.
A BLIND CAT keeps his beloved human company during her hospital stay.
MOSQUITOES forced a booze bandit to surrender to cops outside a cornfield.