THE WEEKEND STARTS HERE: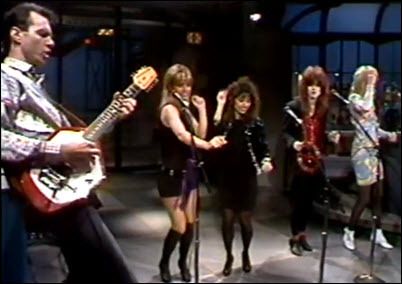 ... with THE BANGLES! There's no better way to start than with these live takes on "Hero Takes A Fall" and Kimberley Rew's "Goin' Down To Liverpool" for Dave in 1984. It was that sort of rawk (and the hotness of Susanna Hoffs) that got Prince to give them "Manic Monday," their first mainstream hit, from the A Different Light album, which included Jules Shear's "If She Knew What She Wants," Alex Chilton's "September Gurls," and -- inevitably -- Liam Sternberg's "Walk Like An Egyptian." Nevertheless, their fondness for the genres of the mid-60s was still evident in their take on Simon & Garfunkel's "Hazy Shade of Winter" for the Less Than Zero soundtrack, and the psych-garage-bubblegum of "In Your Room" on the Everything album, which yielded their final No.1 hit, "Eternal Flame." The draw from the 60s is a constant I saw them in a club, on a big stage and in a club again -- the last time was at a House of Blues, where they covered the We Five's "You Were On My Mind." Obligatory: The Susanna Hoffs solo cover of Bad Company's "Feel Like Makin' Love".
BELLY advance streams Dove.
GAZ COOMBES (Supergrass) advance streams World's Strongest Man.
SHAKEY GRAVES advance streams Can't Wake Up.
PARKER MILSAP advance streams Other Arrangements.
MOUNTAIN GOATS: John Darnielle choreographs Ace of Base's "The Sign." (Language warning) A perennial fave.
PRINCE: Anecdotes from Owen Husney's memoir Famous People Who've Met Me are excerpted at Entertainment Weekly.
LIZ PHAIR: 25 Years Out of Exile.
JANELLE MONAE gets personal.
THE NUMBER ONES ooks at David Rose's horny burlesque jazz instrumental "The Stripper."
AVENGERS: INFINITY WAR is this weekend's sole wide release, scoring 87 percent on the ol' Tomatometer. Remember the last time a studio madea dozen movies just to get toone where they throw ten buckets of awesome in the audience's face? You don't because it's never happened before now. You may see some reviews claiming the movie is overstuffed. And while I've criticized other films for that, I can't really do so here, where stuffing the MCU into one movie was the point of the enterprise. And frankly, it almost seems less stuffed than Civil War, because the screenplay balances the various storylines well. Also, the movie does an excellent job with Thanos as the ubervillain (a relie,f as Marvel does not always do its villains well). You might also see reviews comparing Infinity War to The Empire Strikes Back -- and it may be that for a generation that never had to wait for Return of the Jedi. The other parallel is that, as in TESB, bad things happen. Shockingly bad things happen. So much so that if you take younger kids, you should warn them that bad things happen, but it's not the end of the story. As it's Marvel, there is a bonus scene after all the credits. And more bad things happen. And a cool thing.
STAN LEE is accused by a masseuse of inappropriate behavior.
BILL COSBY was convicted on three counts of sexual assault and faces up to 30 years in prison.
MEL BROOKS released The Producers 50 yaers ago; at 91 and a member of the elite EGOT club, he says his job is to make terrible things entertaining.
KANYE WEST is laser-focused on the release of 5 new albums, and based on a firsthand account, the people claiming he's erratic or in the middle of a meltdown are off base.
AVICII's family released a statement on the Swedish dance music star's death at 28, implying suicide.
CHARLIE ROSE is being slated to star in a show where he'll interview other high-profile men who have also been toppled by MeToo scandals.
A QUIET PLACE sequel advances at Paramount, unsurprisingly.
A GIANT MUTANT FLUORESCENT FISH is spotted in North Carolina.
SUPERSIZED FERAL GOLDFISH threaten Washington state, Lake Tahoe, Alberta, etc.
THREE CRAWFISH busted out of a Cajun restaurant in Texas.
ALMOST 10000 TURTLES were discovered in a house in Madagascar.