THE WEEKEND STARTS HERE:
...with POWER POP! A few of these may be known generally, like Cheap Trick's "Way of the World" and Nick Lowe's "Cruel to Be Kind"... and some well-known to fans of the genre, like Dwight Twilley's "I'm On Fire," Shoes "Too Late," The Records' "Starry Eyes," the Flamin' Groovies' "Shake Some Action" and the Plimsouls' "A Million Miles Away" (seen here in a rare live slot). Others are well-known to longtime Pate fans, like the Three O'Clock's "Her Head's Revolving" or Let's Active's "Waters Part."
LINDSEY BUCKINGHAM & CHRISTINE McVIE advance stream their self-titled album.
ANI DiFRANCO advance streams Binary.
ALA.NI advance streams You & I.
WOODEN WAND covers The Specials, Elvis Presley, and Wire for Aquarium Drunkard.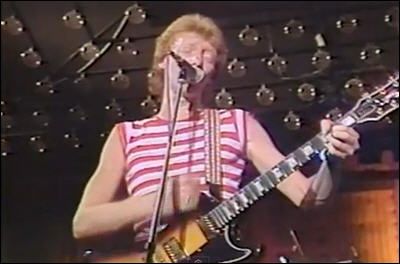 BRAM TCHAIKOVSKY: "Girl Of My Dreams" and "Lady From the USA", live. Because it's Power Pop Friday, of course.
FATHER JOHN MISTY gets profiled by GQ, complete with fashion shoot.
SGT. PEPPER: Not as good as Magical Mystery Tour? More srsly, I haven't heard the remaster, but I have heard raves about it. BONUS: Reviews from 1967.
LYDIA LUNCH talks to SPIN baout her musical progeny.
JUSTIN TOWNES EARLE talks to Paste about Nashville, Country lore, growing up, and more.
NOW SHOWING: This weekend's wide releases are Wonder Woman, which is currently scoring 92 percent on the ol' Tomatometer; and Captain Underpants: The First Epic Movie, which is scoring 86 percent.
WONDER WOMAN starts out wth an advantage the current run of Superman and Batman movies could never have -- most people have at best only the vaguest idea of the backstory of this otherwise iconic character. So director Patty Jenkins gets the benefit of being able to tell an origin story, and in a version that transplants elements of her canon from WWII to WWI. Traveling to Man's World from the Paradise Island of the Amazons, the screenplay also makes much of the fish-out-of-water trope, both dramatically and comic relief, though never really at the expense of Princess Diana. Rather, it tends to illuminate Diana's personality, which has more nuance than we tend to get from the more iconic Kal-El or even Bruce Wayne (because audience have very fixed expectations of who they will be). Gal Godot turns in a star-making performance as Princess Diana, delivering on the promise of her scene-stealing in Batman vs Superman, well-matched with Chris Pine as Steve Trevor, a role seemingly written to play to his strengths in action and comedy. I've seen people appreciate that with Jenkins at the helm, it's less gritty than the prior entries in the DCEU, but I don't know that it's less gritty as much as being less urban in its settings. The comic relief in the screenplay does make it feel a bit lighter, but without sacrificing the mythic quality DC was shooting for here. Thoroughly enjoyable.
JOHNNY DEPP had no idea his former management team used his assets to secure 40MM worth of loans to cover up years of mishandling his money ... according to new legal docs.
MURDER ON THE ORIENT EXPRESS has a trailer online.
THE DARK UNIVERSE: Will Universal's Monster gamble pay off?
FAME AFTER SNL? It's much harder than it seems.
TAYLOR SWIFT has a date with a jury in August.
CARRIE FISHER & DEBBIE REYNOLDS: Over 1500 of the two late actresses' personal artifacts will be going up for sale starting Sept. 23.
A CARRIAGE HORSE goes for a run after escaping a NYC stable.
BABY HIPPO FIONA is ready for her close-up.
AN APOCALYPTIC SWARM OF MOSQUITORS hits LaGuardia airport.
A LIVE MONKEY was busted by a courthouse x-ray machine.