THE WEEKEND STARTS HERE:
...with THE LEMONHEADS! Evan Dando's songbook has always struck me as autmnal, though not all of it really is. For example, a very young Dando released his take on Suzanne Vega's hit "Luka" in May '89. He dissolved the band after releasing the Lovey LP, but returned with a new lineup on "It's A Shame About Ray" in July '92. Despite Johnny Depp's appearance in that video, the Ray album lingered in the lower reaches of the charts, despite being filled with grunge-pop goodness like "Rockin' Stroll" and "Confetti." But that November, Atlantic released the band's take on Simon & Garfunkel's "Mrs. Robinson," which shot to No. 19 on the UK charts and landed Dando unlikely US gigs like "Live with Regis and Kathie Lee." The flip side of that single was the goofy "Being Around," which becomes a singalong live. The followup LP, C'mon, Feel the Lemonheads, hit the Top 5 in the UK, but only No. 56 in the US, with the single "Into Your Arms," which would later turn up on the soundtrack to Before Sunrise and in an FTD commercial. The other two videos from the LP, like "Ray," sport celeb cameos -- Angelina Jolie turns up in "It's About Time" and a young Chloë Sevigny can be seen in "Big Gay Heart" (though I went with Conan because the original is offline). Unfortunately, Dando would soon slide into heavy drugs and the next album, Car Button Cloth was not nearly as successful -- commercially or artistically. An unremarkable solo album and sporadic gigs would follow, until Dando got his personal life together and revived The Lemonheads brand with a self-titled LP in 2005, from which "Black Gown" was the lead track. BONUS: Dando and Mudhoney's Mark Arm fromted the DKT-MC5 on a ripping version (is there any other kind) of the classic "Kick Out the Jams" of The Late Late Show.
THE NEW PR0NOGRAPHERS: A.C. Newman and dan Bejar stopped by World Cafe for a chat and mini-set.
CHUCK PROPHET stopped by World Cafe for a mini-set.
SLOAN stops by The Current for a chat and mini-set.
MARK LANEGAN advance streams Phantom Radio.
BOB DYLAN drops "Dress It Up, Better Have It All" ahead of The Basement Tapes Complete.
PARQUET COURTS, a/k/a Parkay Quarts, drops "Uncast Shadow Of A Southern Myth" ahead of Content Nausea.
THE CREATION: "Making Time." Always singing the same old song.


BELLE & SEBASTIAN: Stuart Murdoch talks to Flavorwire about every one of the band's LPs.

THURSTON MOORE talks to The Guardian about his divorce from Kim Gordon, life in London and whether Sonic Youth have a future.

CANDI STATON talks to The Quietus about Elvis Presley, Bobby Womack, America's gun culture, how to escape a hellish marriage and more.

BOB GELDOF "blames himself" for the heroin death of his daughter Peaches.

CUTOUT BIN: I'm streaming Rocktober with a little less cheese via the Pate page at the ol' HM.
WEEKEND BOX OFFICE: This weekend's wide releases include Fury, which is currently scoring 79 percent on the ol' Tomatometer; The Book Of Life, currently scoring 74 percent; and The Best Of Me, scoring 7 percent.
BRAD PITT had a breakdance converstaion with Jimmy Fallon, in lieu of a sitdown interview.
MISTY UPHAM's body was discovered in a ravine near Auburn, WA.
JUDE LAW is going to be a father for the fifth time.
KESHA spilled her guts to her shrinks in rehab about alleged sexual and physical abuse at the hands of Dr. Luke.
HALLE BERRY claims baby daddy Gabriel Aubry has been living entirely off her child support, and she is asking a judge to cut the payments.
MARIA MENOUNOS was victim to a random act of vandalism on Thursday.
RYAN GOSLING is looking at Marvel's Doctor Strange, DC's Suicide Squad, and The Secret Life of Houdini: The Making of America's First Superhero.
JOHN GRISHAM got himself into hot water with comments about people convicted of sex crimes.
JUSTICE LEAGUE: The two movies announced this week will be two "parts" directed by Zach Snyder, though there will be movies between them.
IN THE HEART OF THE SEA, starring Chris Hemsworth and directed by Ron Howard, has a trailer online.
YEMEN: Houthi rebels took control of the city of Ibb and advanced to the outskirts of Rada'a,where they fought with al Qaeda in the Arabian Peninsula.
SYRIA: Despite years of diplomacy and a CIA operation to vet and train moderate rebels, the U.S. finds itself without a credible partner on the ground in Syria as it bombs the Islamic State group.
IRAQ: Baghdad isn't panicked yet... perhaps because they're used to fear. But nearby Abu Ghraib is seen as a weak point, and sympathy for the Islamic State is growing here, residents say, because of the heavy-handed actions of Shiite militias.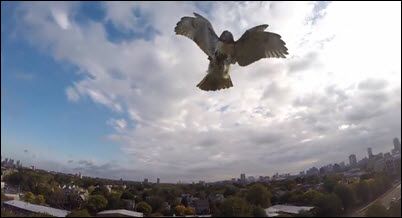 A HAWK knocks a drone out of the sky.
WHEN A SPIDER burrows under your surgical scar.
BLOSOM THE COW is saved because she's too tall to slaughter.
A GOAT is questioned regarding a girl's death from E. coli.