WRECKLESS ERIC: The "Whole Wide World," of course. With Ian Dury on the throne.

TEMPLES visited The Current for a chat and mini-set.

VALERIE JUNE also visited The Current for a chat and mini-set.

CAROLINE SPENCE streams and talks about Spades & Roses..

SOLANGE and MICHAEL McDONALD played "What A Fool Believes" at Okeechobee Fest.

SHARON VAN ETTEN over the 1962 Skeeter Davis country-pop classic "The End Of The World" for The Man In The High Castle.

THE SHINS are "Painting a Hole" ahead of Heartworms.
TOTO: "Hold the Line." Guilty pleasure.
ROD STEWART offered his "deepest apologies" after he was filmed appearing to re-enact an ISIS-style beheading.
A RONNIE JAMES DIO HOLOGRAM is set to tour the world, fronting the Dio Disciples.
AMERICANA FEST celebrates non- Americans, but there's more than one America, amirite?
ESSENTIAL PSYCHEDELIC SOUL SONGS, compiled by Brooklyn Vegan.
WEEKEND BOX OFFICE: Logan went berserker atop the chart with 85.3MM, well ahead of studio projections of 60MM. As March premieres go, Logan comes in behind only Batman v Superman, The Hunger Games, and Alice In Wonderland. Given a production budget just under 100MM, this will be a big winner, as Wolverine plays big in international markets. Get Out places with 26.1MM on a 22 percent drop, much less than the 55-60 percent drops for horror films or even the 35-40 percent drops for critical darlings. The Shack showed with 16.1MM; this faith-based movie attracted some known actors and will likely do pretty well against a 20MM budget. The LEGO Batman Movie takes the fourth slot with 11.7MM on a 39 percent drop that seems a bit large considering the lack of competition for family films at the moment. Before I Fall rounds out the Top Five with 4.9MM against a 5MM production budget.
NATALIE PORTMAN and her husband Benjamin Millepied have welcomed their second child together.
EMMA WATSON is confused about the backlash to her Vanity Fair photoshoot.
BEAUTY & THE BEAST: Russian officials are coming under pressure to check if Disney's new film breaches the country's law against "gay propaganda".
ARNOLD SCHWARZENEGGER fired The Apprentice.
JARED LETO is circling a Tron reboot.
HOW A MINOR CHARACTER IN TAXI DRIVER Influenced One of the Most Iconic Scenes in Pulp Fiction.
TOMMY PAGE, a pop star whose song "I'll Be Your Everything" went to No. 1 in 1990 and who later became a record company executive, publisher of Billboard magazine and a vice president at Pandora, has died. He was 46.
IRAQ: Twelve people from the embattled city of Mosul, including a 2-month-old baby, have been treated for suspected exposure to a blistering chemical agent, medics said Saturday, as Islamic State militants strike back at government-held neighborhoods while trying to hold off advancing government forces.
IRAN reported the first successful experiment carried out by its aerial defense system S-300 received from Russia.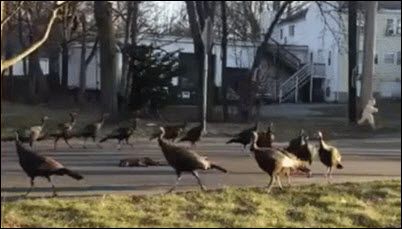 TEN TURKEYS try to confer a tenth life on a dead cat using their secret ritual.
THE SQUIRREL THREAT: There is a subreddit named Insightful Squirrel Men.
TWO CROCODILES were stolen from a mobile zoo in Sydney.