THE WEEKEND STARTS HERE:
... with THE BYRDS! To everything there is a season, and when the leaves start turning, my thoughts turn to this rare live threefer of "Turn! Turn! Turn!", "Bells of Rhymney" and "Mr. Tambourine Man", introduced by... David McCallum? There are more screaming girls, plus go-go dancers when they hit Shivaree for "All I Really Want to Do" and "Feel A Whole Lot Better." There are even more dancers when they cover "Long Tall Sally" and "Not Fade Away" for Shindig! on June 23, 1965, while I'm pretty sure that's Ed Wynn introducing "Chimes of Freedom."
PROTOMARTYR advance streams The Agent Intellect.
SAINTSENECA advance streams Such Things.
JOHN GRANT advance streams Grey Tickles, Black Pressure.
DONNIE FRITZ advance streams Oh My Goodness.
COUSTEAU: "The Last Good Day of the Year." Or close to it.
SQUEEZE is back, and unlike many reunions, the fans are requesting new material.
GARBAGE: Shirley Manson talks to Idolator about the 20th anniversary of the band's debut, and their next LP.
STEVE ALBINI's TOP 10 RECORDS, according to Pitchfork staffers.
LESTER BANGS predicted the future of Rock in 1980.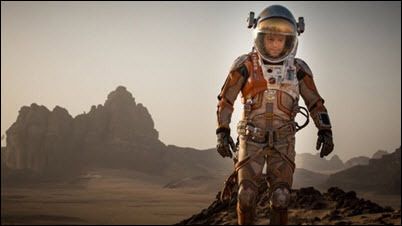 NOW SHOWING: The Martian opens wide scoring 93 percent on the ol' Tomatometer. Sicario exapnds wide at 93 percent.
THE MARTIAN: Apollo 13 + Cast Away + a great and terrible soundtrack = solid old school Hollywood entertainment. Director Ridley Scott's best movie since at least American Gangster. At least one person I know declares it not as good as the book, but this is often the case. Judged on its own merits, The Martian is thrilling, funny and a tribute to human perserverance that goes beyond Matt Damon's space-age Robinson Crusoe. I'm not a Damon fan, but he's good here as part of a fine ensemble supporting cast, particularly Jessica Chastain as Damon's mission commander and Jeff Daniels as the director of NASA.
SICARIO, we are told, is the Mexican word for "hitman," but is just misleading enough as a title to not spoil this engaging film from the outset. The War on Drugs is both the backdrop for and target of this action-thriller-- though the targeting here is not overtly political. Emily Blunt turns in one of her best performances as a member of an FBI hostage rescue team who becomes involved with a joint government taskforce run by Josh Brolin, whose character is as askew as his mission to disrupt the Mexican cartels. The taskforce is advised by an enigmatic Benicio del Toro, whose connections, motivations and purpose unspool slowly and provide many of the twists in the tale. Victor Garber, Jon Bernthal, Daniel Kaluuya, and especially Maximiliano Hernandez (in an unsettling B-story) complement the main cast nicely. Tense, sharp, violent, and occasionally terrifying, Sicario delivers the goods while avoiding Hollywood stereotypes. It reminded me in an odd way of Mamet's Spartan, except better.
NICK JONAS is keeping quiet about his budding romance with Kate Hudson.
SANDRA BULLOCK reportedly finalized the adoption of a baby girl.
BILL COSBY: Three more women have come forward with accusations that the comic drugged, sexually assaulted or sexually harassed them, bringing the former sitcom star's accuser tally to more than 50.
TOM HIDDLESTON, best known for plaing Marvel's Loki, talks to the Wall Street Journal about his upcoming turns as Hank Williams in I Saw the Light, and the Byronic hero of Crimson Peak.
RUSSIA Russia on Thursday escalated its military engagement in Syria, with warplanes carrying out a second day of heavy airstrikes in the wartorn country. What could possibly go wrong?
IRAN: A ship carrying illicit arms believed to be from Iran was intercepted last week off the southern Arabian Peninsula by a member of a U.S.-backed naval coalition and was not registered with any country.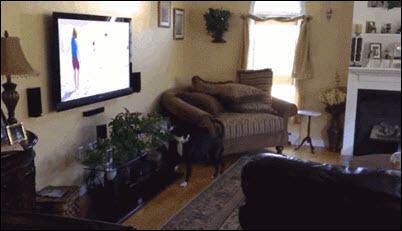 DERBIE BANKS practices his prance while watching dogs on the beach.
AN ELK rammed an automobile -- with a family trapped inside -- in Estes Park, CO. Anyone have a theory about this?
A DOG drove his owner's truck into Branch Lake in Maine.
FEED THE BEARS, and maybe they'll stop by your house.