THE NEW YEAR STARTS HERE:
...with THE BEAT FARMERS! Making a tradition of this more sober than usual, professionally-shot, early BF gig recorded at Universal Studios, including "There She Goes Again" (VU); "Road to Ruin," "Bigger Fool," "Reason to Believe" (Springsteen), "Powderfinger" (N. Young), "Happy Boy," "Big Ugly Wheels," "Bigger Stones," "Gun Sale at the Church," "Dallas Blues," "I Wanna Be Free," "Lakeside Trailer Park," "Death Train," and "Seven Year Itch." If you're new to the band, my picks would be "Bigger Stones," "Happy Boy" and the cover of your choice. BONUS: Now how much would you pay? But wait... there's more! If you really want to see someone put the "bar" in "bar band," watch these NSFW clips from Houston, TX of the late Country Dick Montana leading the band through "Lucille" (K. Rogers) -- complete with his favorite beer bottle stunts -- followed by "Rudolph the Red-Nosed Wino," "Are You Drinkin' With Me, Jesus?" and "Mondo." SUPER-SPECIAL BONUS: Country Dick rolls out "California Kid" and "Anarchy in the UK" (Language warning).
WORLD CAFE's Best of 2015 includes Father John Misty, Courtney Barnett and more...
THE ALABAMA SHAKES perform three tracks from their forthcoming Austin City Limits set.
TOM JONES stopped by Morning Becomes Eclectic for a session.
THE SMITHS: Early demos surface at a Morrissey fan site.
U2: Crushingly obvious, I know.

NICK CAVE & SHANE MacGOWAN: "What a Wonderful World."

ABBA wishes you a "Happy New Year," but it doesn't sound anywhere as celebratory as "Take A Chance On Me."

THE MOUNTAIN GOATS perform "This Year" at the M-Shop in Ames, IA.

OTIS & CARLA have a "New Year's Resolution."

CLAUDE PATE: Don't forget you can stream a live version of "New Year" at PateSpace, or a fan-made video on the Tube, which has comments from a member of The Eclectics and Friend of Pate Ken King.
JOE JACKSON: Pate frequently attempted "One More Time" to often hilarious effect, so today I stick with Joe's early material, including "Sunday Papers" live on the OGWT, "Kinda Kute" on the Kenny Everett Video Show, a Beat Crazy-era run of "On Your Radio" the official clip for "It's Different For Girls" and a bracing live take on "I'm The Man." That last one is taken from the Rock Goes To College show, which also boasts this pulsing version of his signature "Is She Really Going Out With Him?" BONUS: The appropos finale, "Got The Time?"
GUNS N' ROSES: Some version including Axl Rose and Slash, will headline the Coachella Music & Arts Festival, with a possible stadium tour to follow.
THE BEATLES were a big hit on Spotify.
THE MOST ANTICIPATED ALBUMS of 2016, according to Stereogum and Consequence of Sound.
IN MEMORIAM: Musicians and entertainers remembered by NPR Music.
THE ZOMBIES: "This Will Be Our Year."
BILL COSBY was arrested and charged Wednesday with drugging and sexually assaulting a woman at his home 12 years ago — the first criminal case brought against the comedian out of the torrent of allegations that destroyed his good-guy image as America's Dad.
ROB KARDASHIAN was rushed to the hospital and diagnosed with diabetes.
MARK SALLING (Glee) was arrested Tuesday on suspicion of having child pr0n.
THE X-FILES: REOPENED has a 21-minute behind-the scenes documentary online. [Spoiler Alerts]
THE WORST FILMS of 2015, according to The A.V. Club .
'GENERAL" LEE HOLMAN is the second member of the Harlem Globetrotters to die in the past several days.
AL QAEDA: Even as the Obama administration scrambles to confront the Islamic State and a resurgent Taliban, an old enemy seems to be reappearing in Afghanistan: Qaeda training camps are sprouting up there, forcing the Pentagon and American intelligence agencies to assess whether they could again become a breeding ground for attacks on the United States.
BELGIUM: Authorities say they have foiled an ISIS inspired terror attack targeting landmarks in Brussels. Nevertheless, New Year fireworks and festivities have been cancelled because of a terror alert.
RUSSIA: For the first time in 24 years, the U.S. Navy's intelligence branch has published an unclassified report warning against a rapidly rearming and increasingly aggressive Russian fleet.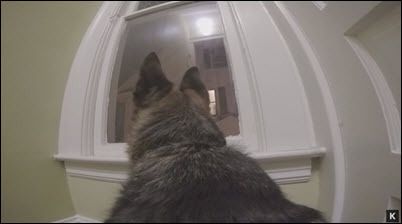 A GERMAN SHEPARD, Home Alone, captured on a Go Pro camera.
20 GENTOO PENGUINS arrived at the Detroit Zoo by FedEx.
A RACCOON commits a daring donut heist.
TWO DOGS were reunited with their family following the devastating EF-3 tornado in the Dallas suburb of Rowlett.