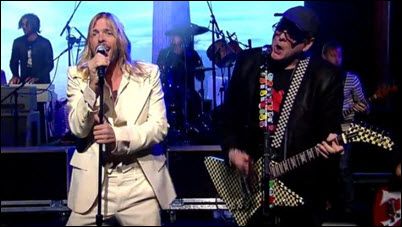 THE FOO FIGHTERS, with Rick Nielsen, cover Cheap Trick's "Stiff Competition" on Letterman. Rick also turned up at their Cubby Bear gig for "Surrender."
THE FLAMING LIPS advance stream the cameo-laden With A Little Help From My Fwends.
RESTORATIONS advance streams LP3.
LILY & MADELEINE advance stream Fumes.
DANIEL LANOIS advance streams Flesh And Machine.
SLEATER-KINNEY drops "Bury Our Friends," a surprise, perhaps ahead of No Cities To Love.
DEAN & BRITTA: "Words You Used to Say."
LUCINDA WILLIAMS talks to PopMatters about flout all manner of conventions with her latest release, Down Where the Spirit Meets the Bone.
ARIEL PINK is inteviewed by BrooklynVegan about the new LP, being a "cult" artist, etc.
U2: Bono claims he always wears sunglasses because he's had glaucoma for decades.
GLEN CAMPBELL and the country stars staring death in the face.
WEEKEND BOX OFFICE: Fury tops the chart with 23.5 million; not bad against a 68 million budget, given that Brad Pitt travels well overseas. Gone Girl places with 17.8 million on a leggy 33 percent drop, and breaks the 100 million mark domestically (it will do the same this week in overseas markets). The debut of The Book of Life shows with 17 million, suggesting it will recoup its 50 million production budget and need overseas receipts to profit. Alexander and the Terrible, Horrible, No Good, Very Bad Day is a leggy fourth with 12 million in competition with The Book of Life for the family demo. The debut of The Best of Me rounds out the Top 5 with 10.2 million against a 26 million budget, probably subpar for a Nicholas Sparks weeper. Below the fold, Dracula Untold skids 58 percent, suggesting this reboot may not get much of a boost from halloween...which falls on a Friday this year, which usually is lethal for box office.
FURY is more or less an old school war movie, albeit with post-Saving Private Ryan levels of realism and character development. Brad Pitt, along with Logan Lerman (The Perks of Being a Wallflower), Michael Pena, Jon Bernthal (The Walking Dead), and even real-life nut Shia LaBeouf, deliver strong performances as a fatalistic band of brothers who crew the tank which gives the film its name. We (and Lerman, who is particularly good here) join the crew very late in WWII, when everyone but Hitler knows the outcome. However, as Pitt's character puts it, "It will end, soon. But before it does, a lot more people have to die." Over the course of roughly two hours, we see the toll the war has taken on the crew and the layers of masks they wear to endure the daily, deadly grind. A number of war movie tropes insert themselves here, and the third act spends a fair amount of the credibility earned in the first two acts, but manages not to overdraw on it. ALSO: Director David Ayer gives good interview.
STEPHEN COLLINS will likely not be prosecuted for either molesting or exposing himself to three victims.
BRUCE JENNER is dating Kris Jenner's best friend (soon to be ex-best friend).
MISTY UPHAM's fall into a ravine may have been accidental.
CHARLIE SHEEN broke off his engagement to adult film actress Bret Rossi. Shocka!
JAMES FRANCO took down a photog while leaving the Lana Del Rey concert Friday night in Hollywood.
BATMAN v SUPERMAN: Is Jena Malone plaing Carrie Kelley (Robin)?
DOCTOR STRANGE: Casting is now focused on Benedict Cumberbatch, Colin Farrell, and Keanu Reeves.
THE HUNT FOR RED OCTOBER? Ships and helicopters of the Swedish Navy searched intensively over the weekend in coastal waters after detecting what the military said were signs of "foreign underwater activity" near the capital, Stockholm.
NIGERIA's military says it has agreed a ceasefire with Islamist militants Boko Haram - and that the schoolgirls the group has abducted will be released.
IRAN: The Ayatolla tweets that ISIS was created by the British government, on the off chance you thought the regime was rational.
IRAQ: The Islamic State killed 47 people in a series of attacks that included a suicide bomber, roadside bombs, and mortars, in Baghdad and areas south of the capital.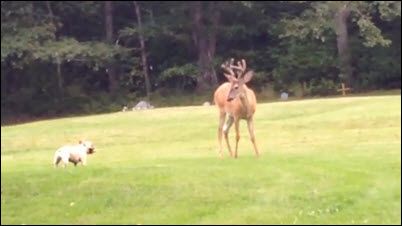 A FRENCH BULLDOG and a BUCK, playing together...
SHEEP got stoned after crooks dumped thousands of pounds worth of marijuana on their farm.
BEAVERS with parachutes in Idaho?
A POLAR BEAR ruins Halloween.