THE WEEKEND STARTS HERE...
... with THE RASCALS! I was delighted to rediscover one of my fave clips, their cover of "Mickey's Monkey" in a medley with "Turn On Your Love Light." A second live medley includes a pair of Rascals originals, "I've Been Lonely Too Long" and "Come On Up." Plus, a copy of "A Girl Like You" has returned to the Tube, as well as "Groovin'" and "How Can I Be Sure?" Round it out with the live-instudio version of the obligatory "Good Lovin'," and the early "Ain't Gonna Eat Out My Heart Anymore" from Hullaballoo.
TEEN DAZE advance streams Morning World.
GRACE POTTER advance streams, her solo debut, Midnight
PALEHOUND advance streams Dry Food.
ROYAL HEADACHE advance streams High.
CFCF advance streams The Colours of Life.
LITHUANIA, a Dr Dog side project, is advance streaming Hardcore Friends.
THE CURE vs THE COMMODORES: "Easy Heaven." (Thx, Nathan.)
STEEL PANTHER with...Miley Cyrus? And Billy Ray Cyrus? Covering def Leppard's "Pour Some Sugar On Me?"
DAVID BOWIE gave a secret memoir to Cameron Crowe in the 70s.
JASON ISBELL spoke to All Things Considered about his new LP, its characters and its relationship to his evolving role as a husband and soon-to-be father.
KEITH RICHARDS, Lord of the Undead, talks to Esquire about stamina, image and Sgt. Pepper's.
RYAN ADAMS is covering Taylor Swift's 1989 album; she's pretty stoked about it.
NEW ORDER: A comprehensive guide from DIY. (Thx, Frank Yang)
THE GRATEFUL DEAD: Not as dead as you thought a couple of weeks ago.
NOW SHOWING: This weeeknd's wide releases include the Fantastic Four reboot, which is currently scoring 10 percent on the ol' Tomatometer (oof); Shaun the Sheep, currently scoring 99 percent; The Gift, scoring 91 percent; and Ricki and the Flash, checking in at 58 percent.
JENNIFER ANISTON & JUSTIN THEROUX reportedly got hitched after a three-year engagement.
JENNIFER GARNER & BEN AFFLECK: Page Six profiles the nanny. Their troll game is strong.
DONALD STERLING filed for divorce Wednesday, almost a year after a contentious legal fight with his wife, Shelly, led to the sale of the L.A. Clippers. Well, that wasn't all that led to that sale.
SEAN PENN went on a date with CSI: NY's Emmanuelle Vaugier, following his split from Charlize Theron.
GWYNETH PALTROW went to Capital Hill to advocate for mandatory GMO labeling of foods. Scientists don't think this is an issue.
MARIAH CAREY is joining the cast of Empire.
RUSSIA is suspected by the U.S. military to be behind the hackers who recently intruded into a key, unclassified email server used by the office of the Joint Chiefs, though there is no final conclusion, a U.S. official familiar with the latest assessment of the attack's impact said Thursday.
SYRIA: A group of Syrian rebels that includes fighters trained by the United States have declared their refusal to fight al-Qaida's affiliate in the country, the Nusra Front, following a series of kidnappings by the militant group.
IRAN so far has refused to allow United Nations inspectors to interview key scientists and military officers to investigate allegations that Tehran maintained a covert nuclear-weapons program, the head of the U.N.'s nuclear watchdog said in an interview Wednesday.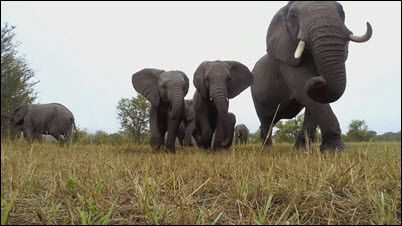 WHEN ELEPHANTS ATTACK a GoPro camera.
RETURN of the LIZARD-MAN? It's a slow news month in South Carolina.
THE SWARM attacks at 54th and Broadway in NYC.
DAYTON BEACH DOGNAPPING Captured on Camera.