THE LABOR DAY WEEKEND STARTS HERE:
...with CHEAP TRICK, live at ChicagoFest '81! Can you honestly tell me you forgot? Forgot the magnetism of Robin Zander, or the charisma of Rick Nielsen? Your set list includes: "Stop This Game," Hello There," "I Want You to Want Me," "On Top of the World," "Reach Out," "Baby Loves to Rock," "Gonna Raise Hell," "Dream Police," "Ain't That a Shame," "Surrender," "Just Got Back," "Day Tripper" and "Goodnight." You can access the individual songs from the link, or let the whole thing roll.
LOW advance streams Ones and Sixes.
BEN FOLDS advance streams So There.
GARY CLARK, JR advance streams The Story of Sonny Boy Slim.
SHEMEKIA COPELAND advance streams Outskirts of Love.
FIRST CLASS: "Beach Baby" may fall into that category of summer song Oliver Wang once described "tinged with fragility and marked by melancholy." It's even more true of the long version, with those French Horns and choral vocals in the c-section...
KEITH RICHARDS, Lord of the Undead, tells the NYDN he's not a big fan of rap, The Beatles, Black Sabbath, Metallica...
THEY DIDN'T WRITE THAT? Hits you may not have known were covers, Part One and Part Two.
LOU REED: Ten Of His Best.
THE MOST TIMELESS SONGS, as measured by Spotify, which means you won't find The Beatles. Some fun and horrifying interactive graphics.
NOW SHOWING: The Labor Day weekend is usually the deadest of the year, but your wide releases are: A Walk In The Woods, which opened Wednesday scoring 49 percent on the ol' Tomatometer; and The Transporter Refueled, which is scoring 19 percent.
KRIS & CAITLIN JENNER are finally meeting face-to-face.
AMANDA PETERSON (Can't Buy Me Love) died from an accidental overdose of a deadly combination of drugs.
TOM HARDY and Charlotte Riley are expecting their first child.
SIENNA MILLER's scenes in Black Mass have been cut.
TORI SPELLING claims she got third-degree burns at Benihana's.
EMMA THOMPSON talks to Vulture about feminism, ageism, Donald Trump, and teapots.
SWEDEN's 200-year-old posture of military neutrality has been eroding amid European integration, and a perceived new threat from Russia has politicians now talking about abandoning it altogether and joining NATO.
CHINA: Five Chinese naval ships are currently positioned in the Bering Sea off the coast of Alaska, US officials confirm. It is believed to be the first time Chinese military vessels have been seen operating in the area.
IRAN's Supreme Leader said on Thursday he favored a parliamentary vote on its nuclear deal reached with world powers and called for sanctions against Tehran to be lifted completely rather than suspended. Ali Larijani, Iran's parliament speaker, told reporters in New York on Thursday that Iranian lawmakers would likely debate the accord more heatedly than in the U.S. Congress, where Republicans have sought to kill the deal.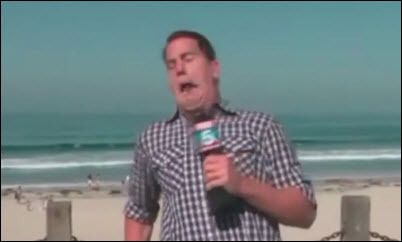 A GIANT BUG terrifies a news reporter.
AN AGGRESSIVE DONKEY was captured in Mt Juliet, TN.
DAWN OF THE PLANET OF THE CHICKENS: Fowl play at San Francisco's Bay Bridge.
A HERO CAT takes a bullet for a baby.