FATHER JOHN MISTY drops a video for "Chateau Lobby No. 4."
FOXYGEN stopped by World Cafe for a chat and mini-set.
HONEYBLOOD stopped by World Cafe for a chat and mini-set
PAT BENATAR & NEIL GIRALDO played a Tiny Desk Concert at the offices of NPR.
HORSE FEATHERS play a couple in the KUT studio.
GLAM CHOPS: Art Brut's Eddie Argos has a "Countdown to Christmas."
WILCO frontman Jeff Tweedy talks to The Independent about the band's 20th anniversary, and his new family band.
MICHAEL STIPE talks to CBS This Morning about R.E.M.
DOLLY PARTON talks to The Guardian about still going strong in her fifth decade of making music.
STEREOGUM's Favorite Songs of 2014.
WEEKEND BOX OFFICE: Exodus: Gods and Kings tops the chart, but with a mere 24.5 million.The holiday season gives the Ridley Scott epic a shot at recouping its 140 million budget statside, leaving overseas markets to provide the additional 280 million it needs to reach profitability in theaters. But overall bad reviews and a B- Cinemascore suggest that may not happen, particularly with another Hobbit arriving this Wednesday, and another Night at the Museum coming Friday. Ouch. Mockingjay likely benefitted from the Exodus thud, as it dropped only 40 percent to place with another 13.2 million. This Hunger Games still lads the prior installment, but is likely to profit to the tune of 400 million worldwide. The Penguins of Madagascar show with 7.3 million on a 33 percent drop; with 58.8 million domestic to date, and another 100 million overseas, this installment of the franchise seems unlikely to profit in theaters. Top Five debuts in the fourth slot with 7.2 million against a reported 10-12.5 million budget, which means this one may well profit through the holiday season. Beg Hero 6 rounds out the Top 5 with 6.1 million on a leggy 24 percent drop, continuing a slow rollout overseas that has earned 70 million to date.
BILL COSBY broke his silence Friday, albeit briefly, only to lecture the media on remaining "neutral" regarding the growing list of rape and sexual abuse allegations against him, and to say that his wife is standing by him.
ANGELINA JOLIE will be withdrawing from public events scheduled over the coming days due to a mild bout of chicken pox.
HAYDEN PANETTIERE is a new mom after welcoming her first child with fiancé Wladimir Klitschko on Tuesday, Dec. 9.
JOSH CHARLES is a new father after welcoming a son on Tuesday, Dec. 9.
MILEY CYRUS was hospitalized Friday night for what looks like some kind of weird flesh wound on her wrist.
EMMA WATSON and boyfriend Matthew Janney, a top rugby player for Oxford University, have gone their separate ways.
SPAIN: A High Court prosecution of 15 members of an Islamic State recruiting group in Madrid revealed that it was headed by former Guantanamo detainee Lahcen Ikassrien, who used Madrid's largest mosque as a recruitment center.
UNITED KINGDOM Defence Minister Fallon said the UK will send a few hundred troops to Iraq in January to help train Iraqi and Kurdish soldiers; the British deployment will also include a small "force protection" contingent. A recently released US Senate report on post-9/11 CIA interrogations disclosed that information gained from former Guantanamo Bay detainee Moazzam Begg had led to the 2004 capture of al Qaeda's Dhiren Birot a.k.a. 'Issa al-Britani' or 'al-Hindi,' who was plotting a dirty bomb attack in London.
LIBYA's internationally recognized prime minister said that pro-government troops are moving toward Triploi "to liberate it" from Islamist militias and the rival government.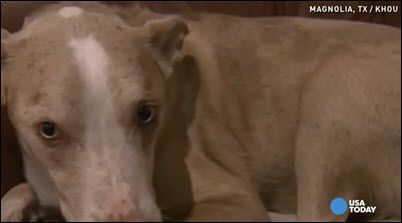 MAYBE THE DOG ate your homework. Yes, really.
A METER-LONG WORM was found inside a man's foot.
AND NOW FOR SOMETHING COMPLETELY DIFFERENT: A two-headed baby salamander.
AFRICAN WILD DOG PUPS have been adopted by a Golden Retriever.