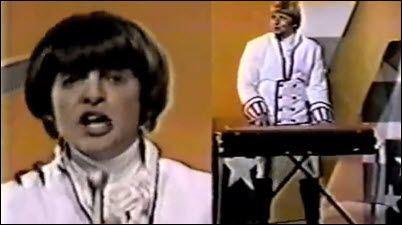 PAUL REVERE, a/k/a Paul Revere Dick (Yes, really), organist and ringleader of the long-running rock band the Raiders, kicks the bucket at his home in Idaho. Although his cause of death was not officially released, he was belived to have been battling cancer. He was 76. Video of "Louie Go Home," "Kicks," "Hungry," "Him or Me, What's It Gonna Be," and "Indian Reservation (The Lament of the Cherokee Reservation Indian)" at the link. So proud to die.
STARS advance stream No One Is Lost.
FRAZEY FORD advance streams Indian Ocean.
MEATBODIES advance stream their self-titled LP.
WE WERE PROMISED JETPACKS advance streams Unravelling.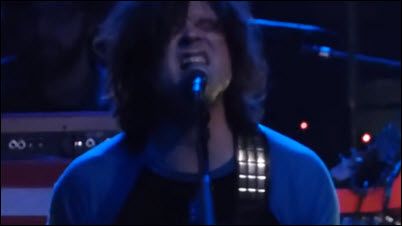 RYAN ADAMS covers Bryan Adams' "Run To You." I love the bleated hipster recognition. A few at the beginning, many more later.
CRAIG FINN's essay about his fave bar from Come Here Often is republished in Men's Journal. (Thx, LHB.)
CARIBOU's Dan Snaith shares the soundtrack of his life at Pitchfork.
ANDREW W.K. talks to Stereogum about his new family television show Meet Me At The Reck, and authenticity in music. And follows me on Twitter.
DELTA SPIRIT's Matt Vasquez shares tips for preserving your voice on tour.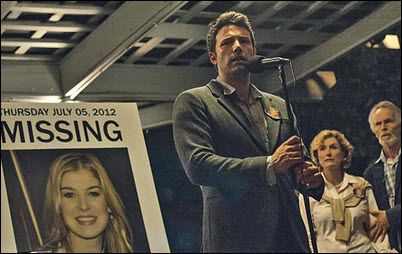 WEEKEND BOX OFFICE: Gone Girl tops the chart with 38 million, well beyond tracking estimates in the mid-20s. While not as big as Gravity debuting in this frame, it almost certainly means Oscar buzz for director David Fincher and his cast, but more on that in my review below. Annabelle places with 37 million against a reported 6.5 million budget (much smaller than The Conjuring's 20 million). That means profit, though marketing costs were likely in the 30-40 million range. The Equalizer shows with 19 million on a 44 percent drop that's pretty leggy in light of the competition from both Gone Girl and Annabelle. Breaking the 100 million mark worldwide, The Equalizer looks like a solid hit. Leggier still was The Boxtrolls, which took 12.4 million in the fourth slot on a mere 28 percent drop, reflecting the overall lack of family fare on screens at the moment. Rounding out the Top 5 is The Maze Runner with 12 million; its 73 million total is more than matched overseas, where it has broken the 100 million mark.
GONE GIRL: Aside from his directorial debut on Alien 3, David Fincher doesn't make bad movies. He delivers again with an adaptation of Gillian Flynn's hit novel, for which she supplied the screenplay about the suspicion falling Nick Dunne (Ben Affleck) when his wife (Rosamund Pike) disappears. Not having read the novel, but having read about it, Gone Girl plays well not only as a mystery potboiler, but also as an acid commentary on marriage...or at least dysfunctional marriages. The movie opens with Nick noting that when he thinks about his wife, he thinks about her head. In particular, cracking open her skull to find out what is really going on inside. Ben Affleck is easy to dislike in the role, and obviously brings some real-world experience to being an object of harsh media scrutiny. Rosamund Pike, who has played everything from a Bond girl to Jane Bennett in Pride and Prejudice, excels here asmissing wife Amy Dunne, whose diary entriesultimately reveal a woman as enigmatic as Nick suspects. Tyler Perry will find a broader audience with his portrayal of a Johnnie Cochran-esque defense attorney, while Neil Patrick Harris also turns in a creditable performance as one of Amy's former beaus, who seems to be carrying a torch for Amy years later. I won't spoil any of the twists, but I will say the final one may be the most disturbing.
MICHAEL PHELPS says he's going to rehab.
GEORGE CLOONEY and Amal Alamuddin are honeymooning in the Seychelles or their new mansion on the Thames.
GWYNETH PALTROW banned CHRIS MARTIN from mentioning new galpal JENNIFER LAWRENCE to the kids? Too good to check.
TAYLOR SWIFT is joining The Voice as an advisor.
AMANDA BYNES continues her, um, eccentric behavior in NYC.
NICK HOGAN became the first male celebrity to have his naked photos hacked in the iCloud scandal.
HONG KONG pro-democracy demonstrators have partially abandoned two protest sites in the city's center as a government-imposed deadline to clear the streets approaches.
THE UNITED KINGDOM: Police are investigating the appearance of UK jihadist Abu Saeed al Britani in a recent IS video. Prime Minister Cameron called for a special forces raid to capture IS executioner "Jihadi John."
TURKEY: A diplomatic rift between Turkey and the United States was patched over late Saturday after the American vice president, Joseph R. Biden Jr., officially apologized to Turkey's president, Recep Tayyip Erdogan, for remarks suggesting that Turkey helped facilitate the rise of the Islamic State terrorist group.
LIBYA: The Shoura Council of Islamic Youth, a Derna-based Islamist group, declared its support for the Islamic State and its allegiance to Abu Bakr al Baghdadi as caliph.
SYRIA: US-led air strikes in northern Syria have failed to interrupt the advance of Islamic State fighters closing in on a key city on the Turkish border, raising questions about the western strategy for defeating the jihadi movement.
IRAQ: The Islamic State took control of Hit and Anbar province and attacked military headquarters in Ramadi and at Al Asad Airfield. The United States sent attack helicopters into combat against Islamic State targets west of Baghdad on Sunday, the first time low-flying Army aircraft have been committed to fighting in an engagement that the Obama administration officials has promised would not include "boots on the ground."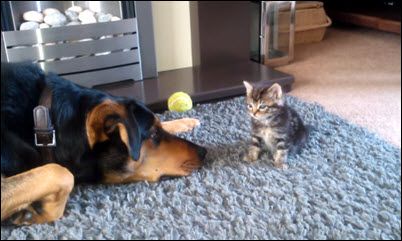 A GIANT DOG wants A TINY KITTEN's attention.
THE SQUIRREL THREAT: The "free range chicken of the trees" is the main talking point of a food festival in Gloucestershire.
MOSQUITOES think and act 100 times faster than you can.
A HORDE OF HUNGRY BULLFROGS invade along the Yellowstone River, eating nearly anything, including other bullfrogs.