THE NEW YEAR STARTS HERE (see y'all Thursday):
...with THE BEAT FARMERS! Making a tradition of this more sober than usual, professionally-shot, early BF gig recorded at Universal Studios, including "There She Goes Again" (VU); "Road to Ruin," "Bigger Fool," "Reason to Believe" (Springsteen), "Powderfinger" (N. Young), "Happy Boy," "Big Ugly Wheels," "Bigger Stones," "Gun Sale at the Church," "Dallas Blues," "I Wanna Be Free," "Lakeside Trailer Park," "Death Train," and "Seven Year Itch." If you're new to the band, my picks would be "Bigger Stones," "Happy Boy" and the cover of your choice. BONUS: Now how much would you pay? But wait... there's more! If you really want to see someone put the "bar" in "bar band," watch these NSFW clips from Houston, TX of the late Country Dick Montana leading the band through "Lucille" (K. Rogers) -- complete with his favorite beer bottle stunts -- followed by "Rudolph the Red-Nosed Wino," "Are You Drinkin' With Me, Jesus?" and "Mondo." SUPER-SPECIAL BONUS: Country Dick rolls out "California Kid" and "Anarchy in the UK" (Language warning).
LIVE AT THE GUARDIAN , 2013: Collected on video in Parts One and Two.
NPR MUSIC's 50 Favorite Albums of 2013.
NPR MUSIC's 12 Favorite Music Videos Of 2013.
THE TOP 10 FOLK & AMERICANA ALBUMS, according to Folk Alley.
THE TOP 5 RISING ARTISTS of 2013, according to World Cafe.
TINY DESK CONCERTS: NPR rounds up 2013.
U2: Crushingly obvious, I know. But this version of the video is not on the Tube, for some reason.
AULD LANG SYNE: Largehearted Boy compiles 10 versions.
NICK CAVE & SHANE MacGOWAN: "What a Wonderful World."
ABBA wishes you a "Happy New Year," but it doesn't sound anywhere as celebratory as "Take A Chance On Me."
THE MOUNTAIN GOATS perform "This Year" at the M-Shop in Ames, IA.
OTIS & CARLA have a "New Year's Resolution."
CLAUDE PATE: Don't forget you can stream a live version of "New Year" at PateSpace, or a fan-made video on the Tube, which has comments from a member of The Eclectics and Friend of Pate Ken King.
JOE JACKSON: Pate frequently attempted "One More Time" to hilarious effect, so today I stick with Joe's early material, including "Sunday Papers" live on the OGWT, "Kinda Kute" on the Kenny Everett Video Show, a Beat Crazy-era run of "On Your Radio" the official clip for "It's Different For Girls" and a bracing live take on "I'm The Man." That last one is taken from the Rock Goes To College show, which also boasts this pulsing version of his signature "Is She Really Going Out With Him?" BONUS: The appropos finale, "Got The Time?"
THE BEST OF 2013: Musicians make their picks in a Pitchfork Guest List.
THE TOP 10 SONGS of 2013, according to Stereogum readers.
THE 50 BEST ALBUMS of 2013, according to NME.
THE MOST ANTICIPATED ALBUMS of 2014, according to Stereogum and Flavorwire.
IN MEMORIAM 1: Musicians and entertainers remembered by NPR Music.
IN MEMORIAM 2: Stereogum's Bands We Lost in 2013.
BENJAMIN CURTIS, a founder of Secret Machines and School of Seven Bells, has died, presumably of diagnosed with T-cell Lymphoblastic Lymphoma. He was 35.
THE ZOMBIES: "This Will Be Our Year."
THE WOLF OF WALL STREET: Forbes reprints its original article on Jordan Balfort.
TAYLOR SWIFT is the Most Charitable Celeb of 2013, according to DoSomething.org. The late Paul Walker placed fourth.
MEGAN FOX, however, is a good tipper.
DWAYNE WADE fathered a son during a temporary split from his now-fiancée Gabrielle Union earlier this year. Where is Ross Geller when you need him?
MICHAEL DOUGLAS & CATHERINE ZETA-JONES, reportedly estranged, were snapped wearing their wedding bands while leaving their New York City apartment.
KHLOE KARDASHIAN wants a fresh start in 2014. Shocka.
ROBIN ROBERTS comes out.
RUSSIA: A suicide bomber detonated on a crowded trolley in Volgograd, killing at least 14 people and injuring scores more, the second such attack in two days in the city.
SYRIA has apparently not even begun to move its most deadly chemical weapons out of the country, two days before the deadline and despite an international effort to mobilize the resources needed to do so. Shocka. The Obama administration's outreach to the Islamic Front in Syria earlier this month failed due to a flawed plan and unrealistic goals, insiders say—and now American influence on the ground with the armed Syrian opposition is at a new low.
EGYPT: A court banned protests at universities without a permit, while 139 pro-Morsi protesters received two-year prison sentences.
IRAN: High level sources within Hamas have confirmed that warm relations with the Islamic Republic of Iran have been restored, following a number of meetings between the two sides held in various Arab and Islamic capitals.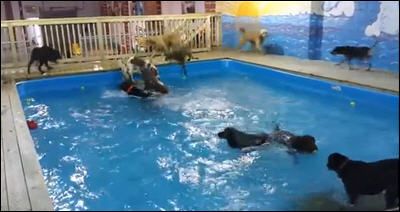 DOG SWIM PARTY: Let's go to the video.
A 700-LB COW was rescued from an in-ground pool in Oregon. Took a lot of effort.
THE DOG-TO-ENGLISH TRANSLATOR: Coming in 20... Squirrel!
AN ORPHAN POLAR BEAR befriends his stuffed Teddy.