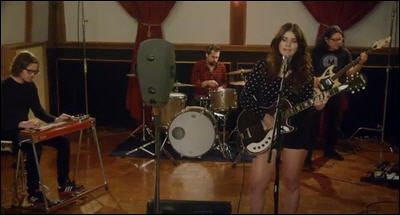 BEST COAST performs a special, binaurally-recorded version of "Baby, I'm Crying." Best experienced with headphones.
THE FLAMING LIPS stream Flaming Side of the Moon, meant to be heard synced to Pink Floyd's Dark Side of the Moon.
EMA advance streams The Future's Void.
PROTOMARTYR advance steams Under Color of Official Right.
THROWING MUSES visits KEXP to play songs from their first album in a decade.
TORI AMOS drops "Trouble's Lament" ahead of Unrepentant Gates.
MICHAEL JACKSON beatboxes the demo for "Beat It."
SMITH: Their chart-topping cover of the Bacharach-Dixon-David classic, "Baby, It's You." Because I'm feeling a little Death Proof.
THE BEST SONGS ABOUT BASEBALL, according to Salon. Also...
WHITE DENIM's James Petralli and his father, former major league catcher Geno Petralli, talk about music and baseball at MLB.com.
THE FLAMING LIPS are releasing an LP to be played simultaneously with Pink Floyd's Dark Side of the Moon.
BLONDIE: Debbie Harry surveys the soundtrack of her life at The Observer.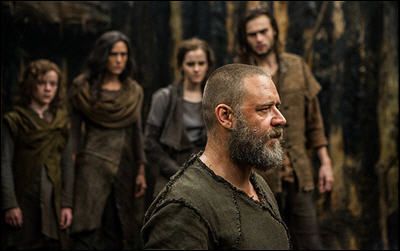 WEEKEND BOX OFFICE: Noah tops the chart with 44 million, right about as predicted. With another 51 million overseas, this might make a mild profit against its 125 million budget...but a "C" Cinemascore and a mere 51 percent positive review from audiences at RottenTomatoes (likely for reasons explored in my blurb below) raises the odds of an underperformance here. Divergent places with 26.5 million onthe predicted 52 percent drop. Like Noah, this one may yet prove mildly profitable. Muppets Most Wanted shows with 11.4 million on a 33 percent drop, continuing to play somewhere between a family film and a regular movie, which has to disappoint Disney a bit. Mr Peabody and Sherman takes the fourth slot with 9.5 million on a 20 percent drop, which is fairly leggy, but maybe not leggy enough against a 145 million budget. God's Not Dead rounds out the Top 5 with 9 million on a mere 2 percent drop, which suggests the devout Christian audience may have turned out for this as a quasi-protest against Noah. Below the fold, The Grand Budapest Hotel's first wide weekendbrings in 8.8 million on a 30 percent increase in receipts, making for a wildly successful platform release; with 24.5 million domestic and 33 million more overseas so far, the Hotel may ultimately end up second only to The Royal Tenenbaums as a commercial success for for Wes Anderson. Sabotage opens in seventh, suggesting Schwarzenegger is just about done at the box office.
NOAH probably should've been titled "Darren Aronovsky's Noah," which would've lessened the bait-and-switch anyone who has read the Bible likely felt in the theater. In The New Yorker, Aronovsky dubbed Noah "the least Biblical Biblical film ever made" -- and by that metric, I suppose the film is a success. Slate catalogs the film's various deviations from the Bible --many of which are tolerable to one degree or another-- but downplays the one I found to be a dealbreaker: It gets God's message to Noah wrong, and puts the Scripturally correct version of mankind's relation to the animals in the mouth of the villain, well-played by Ray Winstone. (Indeed, it gets God's message wrong - and changes other aspects of the story - in ways that make the ensuing drama incoherent). I personally consider this to be a mortal sin for a Biblical epic. I really went into this movie hoping the criticism from some Christian media outlets was overblown -- and some of it is over the top. For example, the fact that God is referred to as "The Creator" is not out of line, and even the presentation of God's message as visions would be acceptable in a primarily visual medium like film. But there's ultimately a line between taking artistic liberties and getting the source material wrong. I think a remake of Gone With The Wind where the South wins, or Scarlett and Rhett live happily ever after would be subject to the same sort of critique. You would not film Wicked and sell it as The Wizard of Oz. The film Arononvsky made -if you get past its incoherence- is an interesting, occasionally riveting take on themes found elsewhere in the Old Testament -- the consequences of disobeying God, the sacrifices that may be required to obey God, the qualities of justice and mercy, mankind's fallen state in the face of temmptation. It's just not the story of Noah, other than some similarity in the names of characters, and the presence of a flood.
FROZEN is now the highest-grossing animated film evah.
GWYNETH PALTROW broke her silence regarding the breakup with Chris Martin.
CHRISTINA AGUILERA and her fiance Matthew Rutler are expecting a baby girl together.
ELTON JOHN and David Furnish will get married in May.
NIKKI REED and Paul McDonald are ending their marriage.
KESHA is trying to ditch the negative influences which were in her life before rehab.
RUSSIA: One of Vladimir Putin's ex-advisers has claimed that the ex-KGB agent ultimately wants to reclaim Finland for Russia. Also, Russia threatened several Eastern European and Central Asian states with retaliation if they voted in favor of a United Nations General Assembly resolution declaring invalid Crimea's referendum on seceding from Ukraine.
VENEZUELA: Armed and masked pro-government militias have claimed at least seven lives and left more than 30 people wounded since the anti-government protests began in mid-February.
SYRIA: Regime forces backed by Hezbollah captured two towns in the strategic Qalamoun region near the Lebanese border.
EGYPT: Islamist militants killed one soldier and wounded three other security personnel in a shooting attack in North Sinai. The Foreign Ministry said 439 security personnel and 57 civilians have been killed in militant attacks since July 2013. Seven suspected terrorists were referred to trial for their involvement in attacks, including one outside a church near Cairo. The Interior Minister announced the arrest of Ansar al Sharia members linked to recent shooting attacks as well as members of a terror cell with links to Libya and Syria.
A TWO-LEGGED DOG makes his first trip to the beach.
AN OLD BULL was rescued from drowning -- and gators -- by heroic Hillsborough County deputies.
A BABY PORCUPINE was delivered by c-section from its mothers' corpse.
SAVED SOCHI DOGS go to Washington.