THE WEEKEND STARTS HERE...
...with THE TALKING HEADS! Here's the expanded band -- including axeman Adrian Belew (who certainly influenced Jon Pratt's early work in Pate) -- in Rome, circa 1980. Your setlist: "Psycho Killer," "Stay Hungry," "Cities," "I Zimbra," "Drugs," "Take Me To The River," "Crosseyed And Painless," "Life During Wartime," "Houses In Motion," and "Born Under Punches."
THE ORWELLS perform in the WNYC Soundcheck studio.
GARY NUMAN stopped by The Current for a chat and mini-set.
NICK WATERHOUSE revives the 60's feel of his hometown of Huntington Beach at KEXP.
BEAR'S DEN performs at WNYC Soundcheck.
SONIC AVENUES will be "In Your Head."
THE CURE: Yeah, it's that day of the week again.
ALEX CHILTON talked to Melody Maker circa 1985, courtesy of Rock's Backpages.
LYKKE LI talks to The Guardian about her new album, the music industry's sexual double standards – and her ideal festival experience.
WILD BEASTS talk to The Observer about their aversion to timid indie rock and why Miley Cyrus is inspirational.
THE HIPSTER MUSIC INDEX: Priceonomics scatterplots how obscure your musical taste is.
CUTOUT BIN: From the Jesus & Mary Chain to Hall & Oates, from the Velvet Underground to Culture Club, from Queen to The Jam, plus Let's Active, Bob Mould, The Orwells, Joan Jett and more -- this Friday's fortuitous finds are streaming from the Pate page at the ol' HM.
CAPTAIN AMERICA: THE WINTER SOLDIER is this weekend's sole wide release, currently scoring 88 percent on the ol' Tomatometer. It is, as the pre-release promotion suggested, Marvel Studios' version of a 70s political thriller like 3 Days of the Condor, which apparently required Marvel to land Robert Redford for a significant role here also. It draws on characters from the Cap canon, but is less faithful to the original "Winter Soldier" books than, say, Iron Man 3 was to the "Extremis" run of books. That may actually be a good thing as the Cap/S.H.I.E.L.D. storylines in question ultimately become too wildly convoluted for a mass audience, imho. In its place is a plot that is probably as close as the Marvelverse will come to a "ripped from the headlines" approach (which is to say only vaguely close) and one that still honors the latter-day Steve Rogers as a man who serves while questioning authority. The movie also builds on Joss Whedon's development of Black Widow in The Avengers, while propelling both Steve and Natasha along their arcs to The Avengers: Age of Ultron (As with Thor: The Dark World, asequence amid the end credits offers more hints of where this is headed, especially for comic book nerds). Like Iron Man 3, this installment has plenty of action in the first and third acts as our protagonists unravel a mystery in Act 2. The action in the first act is mostly realistic, so the audience doesn't suffer from CGI fatigue before the big finale. However, if you have really young kids, consider that humans get killed in pretty realistic ways if that's an issue for you. Otherwise, it's plenty entertaining.

DAVE LETTERMAN announced his retirement. He was so funny once.

JAMES FRANCO tried to pick up a 17-year-old girl on Instagram.

CHRIS BROWN flew Con Air.

ADRIAN BRODY & LEIGHTON MEESTER were caught canoodling on camera in Manhattan.

JENNIFER LOVE HEWITT says she's not obsessed with losing her baby weight. Good for her.

THE BIG BANG THEORY & LUCASFILM are teaming up for a very special episode.

FILM CRITICS: Matt Zoller Seitz would like more focus on the filmmaking.

RUSSIA recalled its ambassador to NATO for consultations Thursday, two days after NATO member countries suspended cooperation with Russia over the Ukraine crisis.

THE UNITED KINGDOM: The Muslim Brotherhood, which is accused of planning attacks from the UK, warned that it will sue the government if an investigation results in restrictions on its UK activities.

VENEZUELA: Intelligence agents arrested one opposition mayor accused of stoking violent protests, while another was jailed for 10 months in the latest moves against rivals of President Nicolas Maduro. Venezuela's Roman Catholic Church accused President Nicolas Maduro's government on Wednesday of "totalitarian" tendencies and "brutal repression" of demonstrators during two months of political unrest that has killed several dozen people.

SYRIA: The top negotiator for the Syrian Opposition Coalition tells The Daily Beast there will be no more peace talks in Geneva unless the regime drastically changes its tune. Former Guantanamo detainee Ibrahim Bin Shakaran, a.k.a. Brahim Benchakroun or Abu Ahmad al Maghribi, was reportedly killed in Latakia while leading his Sham al Islam group.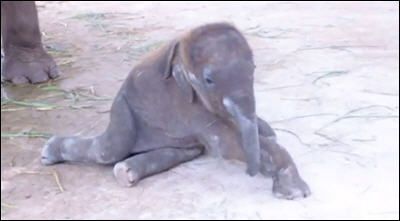 A BABY ELEPHANT tries to stand for the first time.
LUNCH WITH A LIZARD? In Hanoi, they go beyond cat and dog cafes.
A DOG saved her owner by performing the Heimlich maneuver.
A GIRAFFE almost soaks a couple of birds with a giant sneeze.