THE WEEKEND STARTS HERE:
SLY & THE FAMILY STONE rip through a medley of "Everyday People" and "Dance to the Music," plus "Hot Fun in the Summertime," "Don't Call Me N*gger, Whitey," and "I Want to Take You Higher" on network TV, circa 1969.
ARCTIC MONKEYS: Alex Turner and drummer Matt Helders play an acoustic set live from the WNYC Soundcheck studio.
YO LA TENGO stopped by WFUV to talk about and play some of their new songs for an FUV Live session.
BLACK JOE LEWIS hit the studio at KUTX.
ALPINE played a Tiny Desk Concert at the offices of NPR.
SUMMER CAMP advance streams their second album.
THE MOUNTAIN GOATS: As summer wanes, let's roll John Darnielle's take on "The Boys Are Back In Town."
JANELLE MONAE gets the fancy cover-story treatment at Pitchfork.
THE CLASH: Five Reasons They Still Matter.
NEIL YOUNG promises his "high-resolution" Pono audio service will be ready to launch in early 2014.
THE WEDDING PRESENT: David Gedge talks to Drowned In Sound about the changing climate of the music industry, that infamous TOTP performance and his affinity for the sea-side.
UNDER 60 SECONDS: 20 Great Songs.
THE CUTOUT BIN: From Martha Reeves & the Vandellas to Devo, from Nancy Sinatra to the Dead Kennedys, from Carole King to Pavement, plus Greg Kihn, Yo La Tengo, Sex Pistols, Art Brut and more -- this Friday's fortuitous finds are streaming from the Pate page at the ol' HM.
RIDDICK is this weekend's sole wide release, currently scoring 54 percent on the ol' Tomatometer.
LAMAR ODOM, contra other reports, is not in rehab.
MILA KUNIS & ASHTON KUTCHER: Engaged?
ROBIN THICKE & PAULA PATTON put on the PDA as rumors swirl about his cheating.
KATIE COURIC is engaged to boyfriend John Molner.
ROBOCOP: The remake has a trailer online. I'd buy that for a dollar.
SYRIA: US Secretary of State John Kerry's public assertions that moderate Syrian opposition groups are growing in influence appear to be at odds with estimates by US and European intelligence sources and nongovernmental experts, who say Islamic extremists remain by far the fiercest and best-organized rebel elements.
JORDAN: Prime Minister Ensour said Jordan would take no part in a military intervention in Syria, and that Jordan supports a peaceful resolution to the Syrian conflict.
EGYPT: A bomb exploded in the Cairo district of Nasr City, an Islamist stronghold, narrowly missing Interior Minister Ibrahim shortly after he left his home; 22 people were injured by the blast, including 10 police officers and a child. After the attack, in which gunmen also strafed his vehicle, Ibrahim warned of more terrorist attacks; Islamists have increasingly called for violence in the wake of the government's crackdown on the Muslim Brotherhood. The Pentagon said the US could incur billions of dollars in costs if it cancels military aid to Egypt.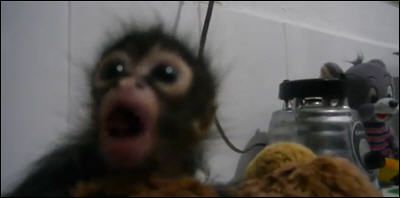 BABY MONKEY Feeding Time.
STUBBS THE CAT, honorary mayor of the tiny Alaska town of Talkeetna is being treated for a punctured long, bruised hips and other injuries following an assassination attempt by a dog.
THE SWARM: Asian hornets prepare to inavde Britain.
FRED THE FERRET terrorizes a block of flats in Chilwell, Nottinghamshire.