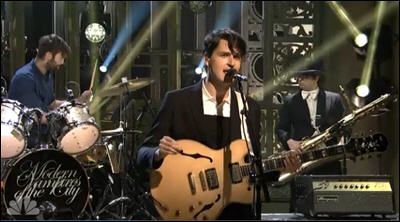 VAMPIRE WEEKEND hit 30 Rock to play "Diane Young" and "Unbelievers" from their imminent LP.
SATURDAY LOOKS GOOD TO ME advance streams One Kiss Ends It All.
SAM AMIDON advance streams Bright Sunny South.
THE HANDSOME FAMILY advance streams Wilderness.
LOCAL NATIVES plays a lively set of songs from their latest album "Hummingbird" live on KEXP at the Triple Door.
EVERY MOTHER'S SON: "Come On Down to My Boat," baby.
GALAXIE 500: CBS News covers a new oral history of the band.
THE XX frontwoman Romy talks to The Guardian about dark nights, darker attire and the pressures of hosting your own festival.
PALMA VIOLETS are profiled by Interview.
MARNIE STERN: THE "lady who shreds" talks to the Washington Examiner about her new album and how she unwound her previously dense song structure for these tracks.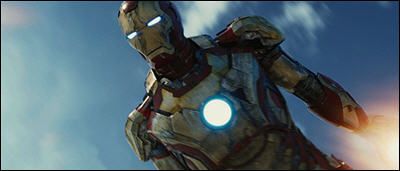 WEEKEND BOX OFFICE: Iron Man 3 repeats atop the chart, as expected, with 72.5 million. That's a 58 percent drop from its monster debut, but Stark & Co. will cross the billion-dollar mark worldwide this week. The Great Gatsby places with a strong 51.1 million debut, about 10-15 millionabove studio and tracking estimates. Aussie subsidies push Baz Luhrmann's budget down from 190 million to about 105 million, so Gatsby will likely be rolling in it.However, its "B" Cinemascore suggests it may not have legs to face the summer onslaught of big releases (like Star Trek: Into Darkness this week). Even so, it's Luhrmann's biggest debut and Leonardo DiCaprio's second-biggest (after Inception, not Titanic, surprisingly). Pain And Gain shows with, er, 5 million (a bit of a drop from Gatsby); Peeples debuts 4.9 million -- proving Tyler Perry needs to show up in drag to make big money -- but the budget was a mere 15 million. 42 rounds out the Top Five with another 4.7 million and an 84.7 million total against a 40 million budget.Oblivion sinks below the fold, but will turn out alright on overseas grosses.
THE GREAT GATSBY: Baz Luhrmann's take on the F. Scott Fitzgerald masterwork is not as bad as I had hoped. Outside the fabled Gatsby galas, Baz is generally less over-the-top than the insane Moulin Rouge. Indeed, this film even feints in the direction of trying to boost the chemistry between Jay and Daisy, which is the central weekness of the novel. And yet, by making Daisy more sympathetic (a choice emphasized by casting Carey Mulligan), the sociopolitical aspect of the story is subverted, making the ham-fisted delivery of same by Tobey Maguire's Nick at the finale ring almost as hollow as his shouting in Gatsby's manse. What remains is spectacle and melodrama. The film largely succeeds on those levels -- and given the number of times Hollywood has failed to capture the esssense of the book, perhaps that's as good as can be hoped for. But it's a lesser film for trying to have it all, which is perhaps a tad ironic.
LINDSAY LOHAN: Docs at The Betty Ford Center have cut off her precious supply of Adderall — and now, she's hell-bent on making her escape.
KHLOE KARDASHIAN & LAMAR ODOM were SWATted -- and this one was dramatic, with cops racing to the scene with guns drawn.
BROOKE MUELLER is making a full-court press to move her twins from Denise Richards' home to Brooke's brother's home.
KATE UPTON: Vogue profiles America's Favorite Bombshell.
MILEY CYRUS leads Maxim's Top 100 Women of 2013. Yes, really.
LIBYA: In Benghazi, two police stations were attacked and a bomb exploded next to a military police camp. Gunmen killed an intelligence officer in Derna. BP followed the US, France, and the UK in pulling some staff out of Libya due to security concerns. Anti-militia protesters in Tripoli blamed Qatar and the Muslim Brotherhood for supporting anti-government militias. The Justice Minister said an agreement had been reached with militiamen so they would relax their siege of the Foreign Ministry; in other reports he denied any such deal.
EGYPT: The Interior Minister announced the arrest of three members of an al Qaeda-linked cell that was said to be planning a suicide attack on a Western embassy in Egypt. At least one member of the cell had traveled to Iran and Pakistan for military training. Privately Egyptian officials said the target was the US embassy.
SYRIA: A Russian official backtracked on the recently announced US-Russian plan to convene a meeting between the Assad regime and the opposition to resolve the conflict; he said holding such a meeting by the end of May is "impossible." Forces loyal to Assad are beginning to turn the tide of the country's war, bolstered by a new strategy, the support of Iran and Russia and the assistance of fighters with Lebanon's Hezbollah movement.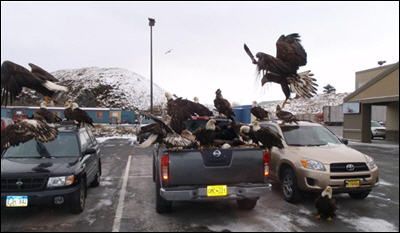 THE BIRDS: A flock of eagles descended on the Unalaska Safeway parking lot last week, prompting police intervention.
THE SQUIRREL THREAT: Their Top Five Crimes.
EMILY & RISHI:She's a six year old girl; he's an oranguntan. He wanna be like you.
REAL-LIKE MOWGLI Tippi Degre spent her whole childhood playing with wild animals including lion cubs, a mongoose, a snake, a cheetah, baby zebra, giraffes and crocodiles.