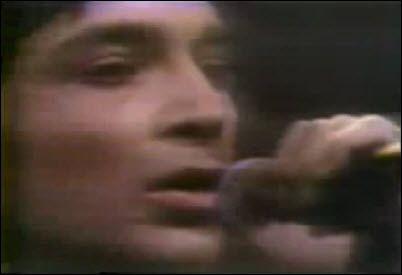 ALAN VEGA, vocalist for the protopunk group Suicide, died peacefully in his sleep Saturday. He was 78. Best known for songs including "Cheree," "Dream Baby Dream," and "Ghost Rider," Suicide adopted the "punk" label as early as 1970, but the duo also employed electronic instruments in minimal compositions that world presage much of New Wave music. Joy Division, Nick Cave, Devo, Soft Cell, Thurston Moore, Bono, R.E.M. The Chemical Bros, MGMT and The Kills are among those claiming Suicide as an influence. In solo work, Vega collaborated with not only "artier" types like Ministry's Al Jourgensen and Lydia Lunch, but also with Big Star's Alex Chilton and singer-songwriter Ben Vaughn. The distinctive Suicide combo of electronica and rockabilly might be most clearly heard in the work of two notable acts. First, The Cars, in which Ric Ocasek mixed rockability, electronics and minimalism, especially on the band's first three LPs. It was no surprise when Ocasek produced Suicide's second album in 1980. Second, and perhaps less expected, in the work of Bruce Springsteen, whose "State Trooper" sounds very much like an acoustic version of Suicide, and whose later cover of "Dream Baby Dream," first emerged on tour and later on 2014's High Hopes album. R.I.P.
BELLY perfomed for the first time in 20 years, at the Parlor in Newport, RI.
CAVEMAN brought new material to WNYC's Soundcheck.
CHRIS FORSYTH & THE SOLAR MOTEL BAND play a Tiny Desk Concert.
SHARON JONES & THE DAP-KINGS share "I'm Still Here," from the soundtrack to and upcoming documentaryon Jones' battle with cancer and her return to the stage in 2014.
WILCO shares a new single, "Locator," at their website, if you give 'em your email address.
EDDIE COCHRAN: "Summertime Blues." Ain't no cure for 'em.
BILLY BRAGG talks - you guessed it - pop and politics (esp Brexit) at NME.
SANTANA talks to The Guardian about Woodstock, being discriminated against at school and making people cry with one note.
MITSKI talks to Drowned in Sound about the making of Puberty 2,touring, and so on.
1971: The Most Influential Year in Rock? I'd argue it represents a transition to albums as the dominant form of presenting rock music. In the internet age, we seem to have shifted back more toward singles, as it was before 1971.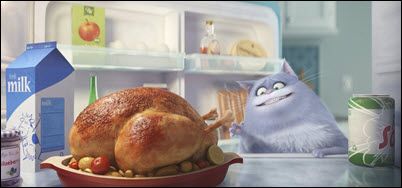 WEEKEND BOX OFFICE: The Secret Life of Pets repeats atop the chart with 50.6MM on a 52 percent drop that's just a smidge above the average for recent animation smashes from both Illumination and Pixar, which bodes pretty well, given that some of these wereseq uels to already successful franchises. Pets has already crossed the 200MM mark, again remarkable for a new property. The Ghostbusters reboot placed a close second with 46MM, with analysists arguing over whether that's enough to launch a franchise, let alone the "cinematic universe" for which the studio hopes. After all, the reboot had a 140MM production budget and a reported 100MM already has been spent on P & A (mostly marketing). Most comedies are lucky to match their domestic take overseas and (as mentioned here on Friday) China has yet to approve the supernatural film there. The Legend of Tarzan showed with 11.1MM on a 47 percent drop that would be terrific had the studio not spent 180MM on it. Finding Dory takes the fourth slot with 11MM -- but with 445.5MM domestc, it's the biggest release of the year so far and the biggest Pixar film to date. This belated sequel will likely finish seventh in all-time box office. Mike and Dave Need Wedding Dates rounds out the Top Five with 7.5MM and a 31.3MM total against a 33MM production budget.
STAR WARS: The Celebration convention featured the public release of a Rogue One BTS reel, and the nonpublic showing of a new trailer (that got badly bootlegged) with a bit of Vader. Alden Ehrenreich was confirmed to be young Han Solo in a future spinoff. And fans got tidbits about Episode VIII and more about Rogue One.
DREW BARRYMORE officially filed for divorce from her husband of four years Will Kopelman.
GWYNETH PALTROW & CHRIS MARTIN finalized their divorce.
DEMI LOVATO is hooking up with MMA pro fighter Guilherme "Bomba" Vasconcelos
TATYANA ALI married Dr. Vaughn Rasberry on Sunday, but not in Bel Air.
TARA REID & JENNY McCARTHY had a bit of an on-air catfight.
CHRIS HEMSWORTH will reappear in some form in Star Trek 4.
TURKEY: A coup by a faction of the military against Pres Erdogan failed, in part because rebel F-16s decided against shooting down his jet en route to Istanbul. Though everyone, including the US government, was caught unawares by the abortive coup attempt, perhaps it should have been foreseen. While Erdogan retains support from a majority of the Turkish people -- and was supported against the coup by rival parties -- he has been attempting to Islamicize the secular nation, imprisoning opponents, seizing newspapers, and threatening to dissolve the constitutional court. Sadly and ironically, Erdogan will now engage in a huge purge of not only suspected coup plotters but political opposition. Missions by American warplanes flown from the Incirlik air base in Turkey against Islamic State targets will resume following a temporary shutdown in the hours after the failed coup.
PAKISTANI social media celebrity Qandeel Baloch has died, an apparent victim of an "honor killing."
THE ISLAMIC STATE: Even as it launches waves of terrorist attacks around the globe, in public messages and in recent actions in Syria, the group's leaders are acknowledging the terrorist organization's declining fortunes on the battlefield while bracing for the possibility that its remaining strongholds could fall.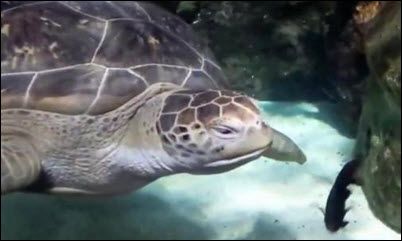 A TINY FISH trolls a SEA TURTLE.
THE SQUIRREL THREAT: A three-year-old boy was left dripping with blood after apparently being savagely attacked by an angry pack of squirrels.
COW TAMPERING at the Great Yorkshire Show.
A BOA CONSTRICTOR was pried from an SUV undercarriange in Pennsylvania.