THE WEEKEND STARTS HERE:
...with SQUEEZE! Despite a new LP, some of you whippersnappers may never heard of Difford, Tilbrook & Co., who previously reeled of stellar string of pop gems, including "Take Me I'm Yours", "Cool for Cats", "Up the Junction", "Goodbye Girl," "Another Nail in My Heart", "Pulling Mussels (From the Shell)", "If I Didn't Love You", and the one most people know -- even if they don't know it's Squeeze -- "Tempted", which features transient member Paul Carrack on vox and keys. Fun fact: Carrack was also responsible for the classic, "How Long" as a member of Ace.
THE DUKE SPIRIT advance streams KIN.
NOTHING advance streams Tired of Tomorrow.
CORINNE BAILEY RAE advance streams The Heart Speaks In Whispers.
COUNTRY SOUL SISTERS III: An Aquarium Drunkard mixtape.
AMANDA PALMER and her father Jack cover Richard Thompson's great "1952 Vincent Black Lightning."
THE MOUNTAIN GOATS stream a cover of War's "Summer," ahead of Amazon's Songs of the Summer playlist.
THE HOUSEMARTINS: It's "Happy Hour" again.
JULIANA HATFIELD writes about her financial struggles and the letter from Kurt Cobain she may sell.
TEDDY THOMPSON & KELLY JONES talk about their old school collaboration.
PRINCE and his three personas. Also, Paul McCartney went a little crazy in Mpls. Authorities in Minnesota have made the overprescribing practices of Prince's doctors the focus of their investigation.
THE TOP 10 BEATLES BOOKS, according to Rolling Stone. I'd add Tell Me Why.
CAPTAIN AMERICA: CIVIL WAR is the weekend's sole wide release, currently scoring 92 percent on the ol' Tomatometer. One of the great things about the Marvel Cinematic Universe is their ability to change up the genre of their films. Captain America: The First Avenger was largely a classic WWII movie that happened to have a super-soldier in it. Captain America: Winter Soldier is basically a 1970s-era political thriller with a super-soldier in it. Captain America: Civil War is largely a superhero movie with a super-soldier in it. The Avengers are here, minus a couple who are swapped out for three of the newest additions to the MCU -- two provide comic relief, two to further expand the universe, and one to further the drama. At a plot level, much of the film addresses the collateral damage of the emergence of superheroes in the world. This idea has already surfaced in films like Batman v Superman and even Mission Impossible: Rogue Nation. It also brings in the notion of forced retirement for some heroes, as seen in Watchmen and The Incredibles. What distinguishes Civil War from those movies and keeps those ideas fresh is that this main plot -- and another plot involving the actual villain of the piece -- are ultimately not just a device but a backdrop to explore the emotional themes of loyalty, guilt and revenge, as well as the small-p political theme of individual vs collective responsibility. Moreover, for fans of the Marvel films, these themes get unspooled among characters and relationships we have seen developed over the course of these franchises, lending them more ballast than one tends to get from the DC films (this parallels the history of comics, in which DC created most of the icons, while Marvel's appeal came from developing the people behind the masks). For example --and I will keep this vague to not spoil anything -- there is a discussion between Tony Stark and Steve Rogers which gets echoed in Stark's conversation with a new (but familiar) character in a different context which is so subtly handled that many may miss how Stark processes it the second time. Rest assured that Civil War is not as heavy as all of this may suggest; it's also got plenty of action set-pieces, surprises and laughs. Yet it is the degree to which the film succeeds in balancing all of these things and managing an even-larger ensemble cast that left me rarely wondering about its 2 hr, 26 minute running time. It is stuffed with much more than a movie like Batman v Superman while feeling much less overstuffed. And yes, stay to the very end of the credits.
ROBERT DOWNEY JR nursed CHRIS EVANS after an on-set injury.
RHIANNA & DRAKE have been "secretly dating for months," according to People magazine.
ALDEN EHRENREICH is reportedly set to play young Han Solo in a future Star Wars spin-off.
POWER RANGERS have a new look for their upcoming movie.
ARSENIO HALL is suing SINEAD O'CONNOR for five million bucks.
NORTH KOREA: Kim Jong-un arrives at the seventh congress of the governing Workers' Party today; he will essentially be attending his own coronation.
PAKISTAN: Police arrested members of a tribal council Thursday for killing a teenage girl for helping a couple elope.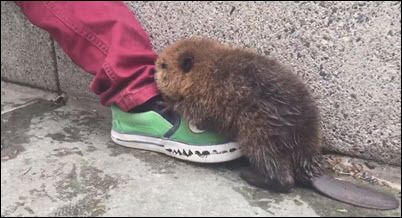 AN ADORABLE BEAVER turned up outside a DC Metro stop.
HEY, IS THAT A PYTHON in your pants, or...oh.
A BUNNY HOARDER freaks out in court.
A LOST DOG on a London bus was reunited with his family.