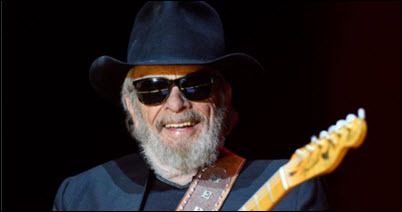 MERLE HAGGARD, one of the most successful singers in the history of country music, a contrarian populist whose songs about his scuffling early life and his time in prison made him the closest thing that the genre had to a real-life outlaw hero, died at his home in California, on Wednesday, his 79th birthday. He's best known for songs like "Mama Tried," and "Okie From Muskogee," (with many more at Rolling Stone) but I love his impressions of other country legends.
DEAKIN, a part-time Animal Collective member, advance streams Sleep Cycle.
THE JOY FORMIDABLE stopped by The Current for a chat and mini-set.
SUNFLOWER BEAN also stopped by The Current for a chat and mini-set.
FIR, with the songwriting skills of Brent Rademaker of Beachwood Sparks and Matt Piucci of Rain Parade, the vocals of the Allah-Las, and the instrumental backings of Rob Campanella of the Brian Jonestown Massacre and Nelson Bragg from Brian Wilson's band, drops the power-popping and Byrdsy "Summer Wasn't There."
THE POSIES drop "Unlikely Places" ahead of Solid States; this track adds a slight 80s vibe to the pop classicism.
MARGARET GLASPY drops the title track from Emotions And Math.
THE LEFT BANKE: "Walk Away Renee."
ROBBIE FULKS: Another of country music's true 'outsiders' comes back around.
VETIVER's Andy Cabic talks to the L.A. Music Blog about the upcoming tour, the new album, his influences, and songwriting itself. (Thx, LHB.)
FRIGHTENED RABBIT is profiled by Consequence of Sound.
SHOEGAZE: Call it a comeback?
CHARLIE SHEEN is the subject of a felony threat investigation triggered by his ex-fiancée.
THE BFG has a UK trailer online.
KHLOE KARDASHIAN & LAMAR ODOM aren't reconciling.
TOM HIDDLESTON wants the James Bond rumors to stop.
WONDER WOMAN's release date moves up, while the WB's Jungle Book moves forward a year and out of competition with the Disney version due on April 15.
JOEL McHALE will play Chevy Chase in a Netflix movie about the origins of the National Lampoon. It's a small Community.
KEIFER SUTHERLAND may return as Jack Bauer someday, so establish a perimeter.
SWITZERLAND is shocked by Muslim teens who refused to shake hands with female teachers.
GERMANS appear to be losing faith in the idea of a borderless Europe, as the results of a poll published on Tuesday showed that two-thirds would prefer the government to end the Schengen free-movement zone.
THE ISLAMIC STATE used mustard gas to attack Syrian troops during an offensive against a military airport in the eastern province of Deir Ezzor, state media reported.
THE ANNUAL REINDEER CROSSING in Arctic Canada is a thing.
A GANGSTER TURKEY crashes into a NJ kitchen, terrorizing a family.
A MYSTERY CREATURE was observed swimming in the Thames River.
SOME CATERPILLARS, like some frat boys, drum their rears to attract friends.