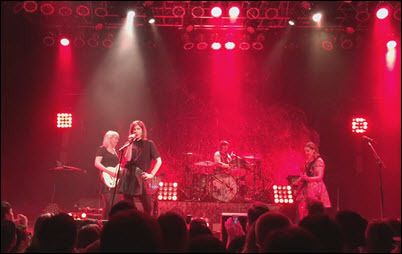 SLEATER-KINNEY covers the Ramones' "Merry Christmas (I Don't Want To Fight Tonight)."
SHARON JONES & THE DAP-KINGS are streaming It's a Holiday Soul Party.
THE JAYHAWKS reveal new material and play live at World Cafe.
JENNYLEE of Warpaint features solo material in WFUV's Studio A.
THE BOTH: Aimee Mann & Ted Leo drop "You're a Gift" for the holidays.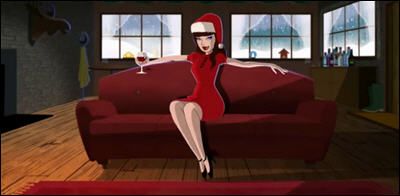 SHE & HIM get animated for their take on "Baby, It's Cold Outside," which Zooey originally sang in Elf.
SLY STONE won't be able to collect 5MM in royalties because he previously had assigned those royalties to a production company.
JOANNA NEWSOM is profiled by the Mpls Star-Tribune.
SONG EXPLODER is one of Vulture's 10 Best Podcasts of 2015.
THE 50 BEST ALBUMS of 2015, according to Stereogum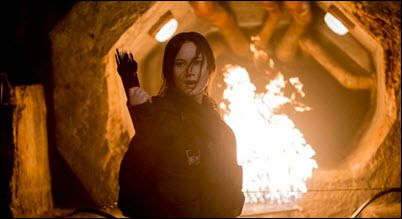 WEEKEND BOX OFFICE: The Hunger Games: Mockingjay - Part 2 tops the chart again with 11.3 MM, while the weekend's sole big new release, In the Heart of the Sea, placed with 11MM (so there's an outside chance these will reverse once the estimates become real numbers). The moral of the story is: Don't open your movie the weekend before a new Star Wars episode (see also Jurassic World, Iron Man 3, The Avengers and The Dark Knight). Then again, tthe reviews for In the Heart of the Sea weren't all that hot for what was hoped to be awards bait as well s a commercial success. Normally, a B+ Cinemascore would be good word of mought, but Star Wars is going to be joined by many other choices for counter-programming.Moreover, the overseas erceipts were equally tepid, which mean Ron Howard & Chris hemsworth may end up with movie losing tens of millions at the box office. The Good Dinosaur shows with 10.5MM,which means it continues to lag Pixar's other recent releases andhas yet to recop its reported 167MM production budget worldwide. Creed remains in the fourth slot with 10.1MM on a leggy 33 percent drop. Awards nominations may keep it leggy into 2016. Krampus rounds out the Top Five with 8MM and will likely profit on the big screen, albeit not on the Gremlins scale for which the studio hoped.
JENNIFER LAWRENCE & AMY SCHUMER wearing the same dress to the Golden Globes?
EVA LONGORIA is engaged to Jose Antonio Baston, the President of Televisa— Latin America's largest media company.
BEYONCE & BRADLEY COOPER may topline his directorial debut, a remake of A Star Is Born.
CATE BLANCHETT may soon be joining the Marvel universe.
CAMILLE PAGLIA called Taylor Swift a "Nazi Barbie."
X-MEN: APOCALYPSE drops its first trailer.
IDEPENDENCE DAY: RESURGENCE also dropped a trailer online.
AUSTRALIAN police charged five people including a teenage boy over plans to carry out a terror attack in Sydney, linking counterterrorism raids on Thursday to an earlier operation last December.
FRANCE's National Front failed to win a single region in local elections Sunday, after mainstream parties managed to block its candidates - including the far-right party's chief, Marine Le Pen - from taking advantage of leads in several regions. BTW, while the Socialists (and some in the press) are declaring the National Front to be extreme-right, the reality is that they are more like Donald Trump -- anti-immigration, but further Left on many issues than the center-right figures that won yesterday.
RUSSIA on Sunday warned Turkey to stop staging what it called provocations against its forces in or near Syria after one of its warships fired warning shots at a Turkish vessel in the Aegean to avoid a collision.
A TARANTULA makes a good pet...for some people, I guess.
A LARGE HERD OF BUFFALO is running loose near Tisdale, Sask.
A BABY DOLPHIN at the Shedd Aquarium is looking for a name.
A HORSE BREEDER who found a newborn piglet in her stables thinks it may have been carried there by a fox.