THE FOURTH of JULY WEEKEND STARTS HERE:
...with THE BEACH BOYS! It's Pate Reunion Weekend and time to "Do It Again." Because folks my age will always remember their mammoth July 4th concerts at the Washington Monument -- as with this 1980 take o­n "Good Vibrations." Their "Lost Concert" from 1964 includes "Fun, Fun, Fun," "Long, Tall Texan," "Little Deuce Coupe," "Surfer Girl," "Surfin' USA," "Shut Down," "In My Room," "Papa Ooh Mow Mow," and "Hawaii." Their take on "Dance, Dance, Dance" from Shindig! later that year is like a slice of Christmas in July. There's also a nifty twofer of "I Get Around" and "'When I Grow Up (To Be A Man)" from their first UK TV appearance o­n Ready Steady Go! The Andy Williams Show serves up "Help Me, Rhonda," while The Jack Benny Hour produced these quick takes o­n "Barbara Ann" and "California Girls." There's a primitive video for "Wouldn't It Be Nice" that starts with a cameo from Brian Wilson's dogs (Banana and Louie), who appear at the end of the Pet Sounds LP. And I'll finish with a live version of "God Only Knows" from the 1967 European tour -- one of the last Brian would do for a decade or so.
RAY CHARLES performs "America The Beautiful" like no one else.
INDEPENDENCE DAY: Bruce Springsteen, circa 1978, before it came out on The River.
AMERICAN MUSIC: The Violent Femmes, circa 1992.
DAVE ALVIN: Hey, baby, it's the "4th of July."
JAMES LILEKS: Truth.
THE STAR-SPANGLED BANNER: From 2008, Hidden Track serves up 12 video versions. And the only ones not working now are Jimi Hendrix and Whitney Houston.
THE UNITED STATES prepares to celebrate the anniversary of the adoption of the Declaration of Independence, declaring independence from the Kingdom of Great Britain on July 4, 1776. As the Wikipedia notes, this is a little arbitrary: New Englanders had been fighting Britain since April 1775; the first motion in the Continental Congress for independence was made o­n June 8th; and the Congress voted 12-0 for independence from the Kingdom of Great Britain o­n July 2, 1776. Even so, the publication of the Declaration was momentous . If you're not in DC, the best way to see and learn about the Declaration may be through the Charters of Freedom website. Or you can watch Mel Gibson, Michael Douglas, Renee Zelleweger, Kevin Spacey, Wynona Ryder and other Hollywood folk read the Declaration.
Of course, the holiday more broadly celebrates the American Revolutionary War, and the Founders' unlikely victory. People with the highest standard of living and the lowest taxes in the Western World fought a sometimes unpopular war for our freedom. Early o­n, the Revolutionaries (also known as "Americans" or "Patriots") had the active support of about 40 to 45 percent of the colonial population. By 1779, there were more Americans fighting with the British than with Washington, which is why Washington needed help from the French, the Spanish and freed Blacks. You can separate fact from fiction regarding the sacrifices and fates of the Founders at Snopes. You can hear two-time Pulitzer Prize winner David McCullough read from the first chapter of his 1776 via NPR. Or watch a nifty clip on the passage and public reading of the Declaration from the John Adams miniseries.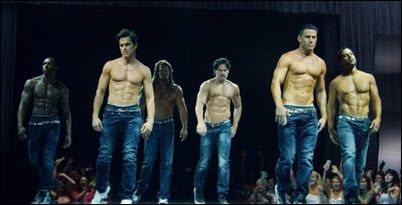 NOW SHOWING: The weekend's wide releases include Terminator: Genisys, which is currently scoring 25 percent on the ol' Tomatometer; Magic Mike XXL, currently scoring 58 percent; and Faith of Our Fathers, which critics have not bothered to review.
DEBBIE HARRY turned 70 yesterday. Stereogum recently ranked Blondie's albums, while NME delivered 25 fun facts about the singer.
CHANNING TATUM is profiled by Vanity Fair.
KIM KARDASHIAN is on the cover of the Rolling Stone, because she's a giant in the music biz. Oh wait.
JENNIFER GARNER reached her breaking point with Ben Affleck's drinking and gambling and that's why she pulled the plug on their marriage ... sources connected with the couple tell TMZ. Or was it Affleck's career comeback that did them in? The options aren't mutually exclusive.
JENNIFER LAWRENCE ditches Chris Martin for Nic Hoult again.
TRUE DETECTIVE stars Rachel McAdams and Taylor Kitsch are dating.
MILEY CYRUS was caught canoodling on camera with model Stella Maxwell.
STEPHEN COLBERT interviewed EMINEM on a Monroe, Michigan public access show, presumably for use on The Late Show.
ROBERT DOWNEY JR & PAUL THOMAS ANDERSON are collaborating on a live-action Pinocchio.
STEVE JOBS, starring Michael Fassbender, has a trailer online.
CREED: The next generation Rocky movie has a trailer online.
SIR NICHOLAS WINSTON, who organised the rescue of 669 children destined for Nazi concentration camps, has died aged 106.
YEMEN: Around 1200 prisoners, including al Qaeda suspects, escaped during clashes at a jail in central Yemen.
THE ISLAMIC STATE threatens to topple Hamas in the Gaza strip.
IRAN's Central Bank has successfully repatriated 13 tons of gold as part of a package of sanctions relief provided to Iran by U.S. and Western powers.
TWIGGY: Another Fourth of July tradition, the water-skiing squirrel. Great story. Compelling and rich.
RANDY BULLS had to be hosed down to enable the rescue a cow.
A THERAPY TORTOISE comforts the residents of a Florida nursing home.
THESE FLATWORMS plunge their penises into their own heads to inject themselves with sperm (when they must).