THE LABOR DAY WEEKEND STARTS HERE:
...with CHEAP TRICK, live at ChicagoFest '81! Your set list includes: "Stop This Game," Hello There," "I Want You to Want Me," "On Top of the World," "Reach Out," "Baby Loves to Rock," "Gonna Raise Hell," "Dream Police," "Ain't That a Shame," "Surrender," "Just Got Back," "Day Tripper" and "Goodnight." You can access the individual songs from the link, or let the whole thing roll.
TWIN PEAKS is streaming Wild Onion.
THE LOS ANGELES POLICE DEPARTMENT advance streams its self-titled LP.
PARQUET COURTS delivered a live performance in the KEXP Studio.
HAMILTON LEITHAUSER delivered a special concert for KEXP's VIP donors at The Triple Door in Seattle.
VASHTI BUNYAN drops "Holy Smoke" ahead of Heartleap.
FIRST CLASS: "Beach Baby" may fall into that category of summer song Oliver Wang once described "tinged with fragility and marked by melancholy." It's even more true of the long version, with those French Horns and choral vocals in the c-section...
BOB DYLAN & THE BAND: The Strangest (and Funniest) Moments on the Basement Tapes.
THE RAMONES' estates have reconciled and are making big palns.
THE POP POWER SHIFT: How online armies replaced fan clubs.
TWELVE ESSENTIAL 80s ALBUMS, according to PopMatters.
ALBUM SALES hit another all-time low.
CUTOUT BIN: From the Beach Boys to Billy Bragg, from Thin Lizzy to Temper Trap, from the Modern Lovers to the Jackson 5, plus the Replacements, David Bowie, Shonen Knife, CSN and more -- this Friday's fortuitous finds are streaming from the Pate page at the ol' HM.
NOW SHOWING: The November Man opened wide Wednesday, scoring 32 percent on the ol' Tomatometer; As Above/So Below opens with 33 percent. And Ghostbusters returns to 784 lucky big screens at 97 percent.
JOAN RIVERS was in critical condition following complications from throat surgery. Rivers was placed in a medically induced coma Thursday as her daughter flew cross-country to her mother's side. She's now reportedly resting comfortably.
BRYAN SINGER: The Special Victims Squad of the New York Police Department is investigating the embattled Hollywood director for a forcible sexual assault that was allegedly committed last year against a man in his twenties.
SHAKIRA is pregnant with her second child.
BRITNEY SPEARS dumped her boyfriend of 18 months ... after finding out there's a video of him cheating on her that's being shopped around Hollywood.
STAR WARS: EPISODE VII has resumed production after Harrison Ford's on-set injury stalled filming for a couple weeks.
THE ACME CORPORATION may be headed to the big screen.
BRADGELINA were married Saturday in the French hamlet of Correns, a spokesman for the couple says. Even Jon Voight was surprised.
UKRAINE: Supported by NATO satellite imagery showing Russian forces on the move in eastern Ukraine, its president accused Russia on Thursday of an invasion to aid the separatists, and his national security council ordered mandatory conscription to help counter what he called an "extremely difficult" threat.
NEW YORK: An Egyptian lawyer charged in the 1998 embassy bombings in Africa is trying to distance himself from other acts of terrorism even as British investigators reportedly look at his son in the killing of an American journalist.
EGYPT said it would carry out military strikes in Libya if so requested by the Libyan parliament.
THE ISLAMIC STATE: President Obama on Thursday said his administration has not yet developed a comprehensive strategy to counter Islamist militants operating inside Syria. White House Press Secretary Josh Earnest subsequently insisted that Obama specifically articulated a "comprehensive strategy" for dealing with the Islamic State during the briefing. In the Syrian city of Raqqah on the banks of the Euphrates River, Islamic State militants are busy building a capital fit for their followers. No one is falling over themselves to respond to Barack Obama's quest for a new "coalition of the willing" to attack the jihadis of the Islamic State in Iraq and Syria - least of all, it seems, the Arab governments that are most immediately threatened by its brutal, border-demolishing agenda.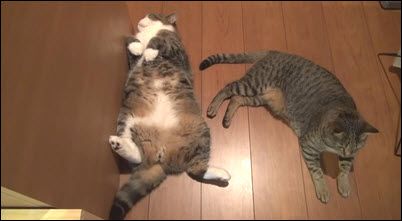 MARU & HANA get a head start on the weekend.
YOYO the BASSET HOUND is a "very large cat" to Cambridge University.
FISH Raised to Breathe Air, Walk on Land.
AN ORPHANED HIPPO nursed back to health by his canine chums has been successfully released back into the wild.
HELLO KITTY IS PEOPLE!