GRIZZLY BEAR's Daniel Rossen sings Gene Clark's "Some Misunderstanding."
CONOR OBERST is advance streaming Upside Down Mountain
HALEY BONAR is advance streaming Last War.
JOLIE HOLLAND is advance streaming Wine Dark Sea.
NEIL FINN (Split Enz, Crowded House) performs on WNYC Soundcheck.
SHARON JONES and the DAP-KINGS: The video for "100 Days, 100 Nights" was directed by Adam Elias Buncher, who achieved the old skool look using two vintage TV cameras bought on eBay for 50 dollars each.
TORI AMOS talks to Weekend Edition about "standing by the creations" that make up her identity at midlife.
WEEZER's Blue Album turned 20 (goml), so Flavorwire recruited indie musicians to write about each track.
CAT POWER talked to The Observer about her nomadic spirit, Patti Smith and a near-death experience.
TUNE-YARDS: Merrill Garbus talks to SPIN abouther musical influences, from 80s pop to Africa.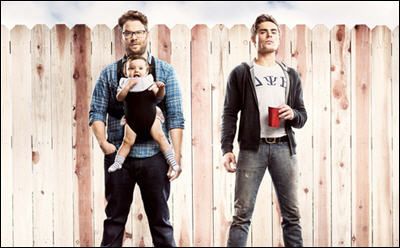 WEEKEND BOX OFFICE: Neighbors tops the chart with 51 million against an 18 million budget.That's almost instant profit, and a surpise win over the less that Amazing Spider-Man 2, which dropped 59 percent to place with 37.2 million and a 147.9 million domestic total against a considerably larger budget. That said, Spidey already has 550 million worldwide, an likely needs to reach 650 million to profit. The Other Woman shows with 9.1 million; it has roughly 120 million worldwide against a 40 million budget, so the rest from hereon is gravy. In the fourth slot, Heaven Is Real does a leggy 7 million, bringing its domestic total to 75.2 million against a 12 million budget (foreign receipts are negligible). Captain America: The Winter Soldier rounds out the Top 5 with 5.6 million, approaching 250 domestic and 450 billion more overseas. Below the fold, Moms' Night Out and Legends of Oz had less-than-stellar debuts, though Moms at least had a mere 5 million budget.
LINDSAY LOHAN has sworn under penalty of perjury she suffered a miscarriage.
KIM KARDASHIAN had a Paris-themed bridal shower in Beverly Hills.
ZOE SALDANA has crossed planes and trains off the list; no word about automobiles.
THE COLBERT REPORT will be succeeded by The Minority Report With Larry Wilmore.
SHERRI SHEPHERD is getting divorced; her husband wants their unborn child.
TMZ is getting sued for sexual discrimination.
UKRAINE: Voters streamed into polling stations Sunday in eastern Ukraine to vote in controversial referendums held by pro-Russian activists eager to declare independence from Kiev. A CNN crew saw several people vote twice at one polling station, where the ballot boxes were decorated with new Donetsk independence flags. With voting still going on, one separatist leader said the region would form its own state bodies and military after the referendum, formalizing a split that began with the armed takeover of state buildings in a dozen eastern towns last month.
VENEZUELA said on Sunday it had freed most of the 243 youth activists arrested in raids last week on street camps set up to protest against President Nicolas Maduro's socialist government. Maduro has reacted furiously to calls in the United States for punitive measures against his government for alleged rights abuses in response to three months of street protests.
NIGERIA: Suspected Boko Haram militants blew up a bridge connecting Adamawa and Borno states, killed a number of people, and abducted a woman and her two children; on May 5, militants blew up a bridge that linked Nigeria to Chad. About 50 of the kidnapped Nigerian schoolgirls were reportedly sighted in the Central African Republic last week accompanied by armed Seleka rebels.
EGYPT: The chief prosecutor's office accused 200 members of the Sinai-based jihadist group Ansar Bayt al Maqdis (Ansar Jerusalem) of terrorism, conspiracy with al Qaeda and Hamas, fighting and training in Syria, and carrying out 51 attacks including suicide bombings. The group also allegedly cut a deal with former president Mohamed Morsi to refrain from attacks in exchange for the release of some of its members. Sources said 98 of the 200 suspects are at large.
SYRIA: Regime forces began sweeping Old Homs city for mines, and civilians returned, as the last 360 rebel fighters were evacuated.
IRAQ: The Iraqi military has launched an offensive to retake the city of Fallujah from the Islamic State of Iraq and the Sham and allied tribes.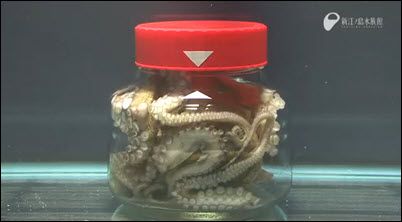 AN OCTOPUS opens a jar from the inside.
A PIG on the lam slowed traffic on I-30 in Little Rock.
SEVEN BABY SKUNKS that don't stink.
OUROBOROS: The snake that eats its own tail.