BILLY JOEL, with Brian Johnson on AC/DC's "You Shook Me All Night Long," and Jimmy Fallon on 'The Lion Sleeps Tonight." Call it Twofer Monday.
CLOUD NOTHINGS advance stream Here and Nowhere Else.
SAINTSENECA advance streams Dark Arc.
WOLFMOTHER streams their surprise new LP, New Crown.
MAC DeMARCO advance streams Salad Days.
A.C. NEWMAN covers Bill Fay's "Be Not So Fearful" for The Walking Dead Original Soundtrack, Vol. 2.
SWANS drop "A Little God In My Hands," ahead of To Be Kind.
THE FOUR TOPS: Levi Stubbs works up a sweat on live French TV, belting out "I'll Be There."
THE HOLD STEADY and its devoted fans are essayed at The Talkhouse.
JOHNNY CASH's posthumous "lost" album gives voice to a man in recovery.
ELBOW's Guy Garvey tells Under The Radar about four of his fave cities and the songs which accompany them. (Thx, Frank Yang.)
ALEX CHILTON: SPIN excerpts a new biography of the indie icon, A Man Called Destruction.
WEEKEND BOX OFFICE: Divergent tops the chart with a 56 million debut. That doesn't seem bad against an 80 million budget, but it's less than most estimates and well short of the 69 million Twilight opened with in 2008. The competition heats up in April, which means Divergent will have to earn about as much overseas as it does domestically to profit. That's doable, but disappointing. Even so, it's not as disappointing as Muppets Most Wanted, which placed with a mere 16.5 million. Again, not bad against a 50 million budget, but certainly not the 29.3 million opening of The Muppets reboot. Mr Peabody and Sherman shows with an underwhelming 11.7 million and an 81 million domestic total against a 150 million budget. 300: Rise of an Empire skids 55 percent into the fourth slot with 8.7 million; nevertheless, the sequel approaches 94 million domestic against a 110 million budget, suggesting robust overseas receipts will put this one in the black. God's Not Dead rounds out the Top 5 with a surpsrisingly strong 8.6 million; one wonders what -if anything- that potends for next weekend's Noah. Below the fold the platform release of The Grand Budapest Hotel continues, bringing in another 6.8 million on about 300 screens. Meanwhile, the crowdfunded Veronica Mars crashed 75 percent to make only 490K in its second weekend.
MILA KUNIS & ASHTON KUTCHER are reportedly expecting a child together.
L'WREN SCOTT: Her suicide reveals the tragic side of NYC's glitzy scene.
KEVIN BACON, icymi, made a big, footloose entrance on The Tonight Show.
ALYSSA MILANO and her husband David Bugliari are expecting their second child later this year.
KIM KARDASHIAN & KANYE WEST hit the cover of Vogue.
KHLOE KARDAHIAN & LAMAR ODOM may be getting divorced, but they're reportedly chatty.
AMANDA BYNES looks normal, which is news.
LADY GAGA has defended her recent SXSW festival performance, which involved vomiting performance artist Millie Brown.
JOHNNY WEIR allegedly bit a chunk out of his husband's arm during a domestic dispute.
OLIVER STONE says Jewish control of the media is preventing an open discussion of the Holocaust.
JAMES REBHORN, one of those classic "That Guy" character actors, has passed away at 65, reportedly from melanoma.
MALAYSIA: Australian Prime Minister Tony Abbott said authorities had a number of credible leads on the missing Flight 370.
UKRAINE: One of the founders of independent Ukraine's military expects a Russian invasion. A top air force commander was being held after his base in Crimea was stormed by pro-Russian forces, Ukraine's acting president said as he called for his release.
VENEZUELA: Three Venezuelans have died from gunshot wounds during protests against socialist President Nicolás Maduro, pushing the death toll to 34 from almost two months of demonstrations that have been answered with deadly force from both security forces and armed pro-government gangs.
SYRIA: The Al Nusrah Front and the Islamic Front's Ahrar al Sham battled regime forces for control of the Kasab crossing along the Turkish border. The leaders of the western and central rebel fronts announced a battle to liberate the coast in Latakia.
EGYPT: Security forces thwarted an attempt to detonate an explosive device on the road leading to the el Arish airport. Some security sources said the intended target of the bomb was Sedki Sobhi, a top Egyptian general.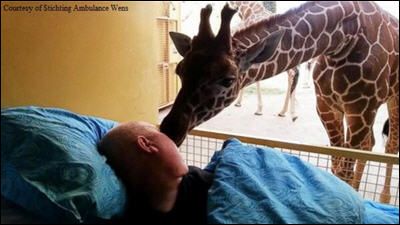 A GIRAFFE kisses a terminally ill zoo worker goodbye.
ELEPHANTS ON THE LAM after escaping from a circus near St Louis.
GIANT BURMESE PYTHONS have map and compass senses which help them travel "home" over vast distances, scientists have been surprised to discover.
A MACAQUE MONKEY, massaging a cat... mass hysteria!